These Running Shoes Designed For Women's Feet Are Changing Up The Sneaker Game
@joinhilma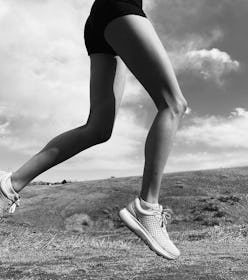 We may receive a portion of sales if you purchase a product through a link in this article.
Any running enthusiast will tell you that finding the perfect pair of sneakers is akin to shopping for your new favorite jeans: It'll take numerous trial and errors to find "the one." And sometimes, even after all that searching, everything still feels mediocre. As a casual jogger, I've found myself in this latter bucket. I have a sneaker I like — it has good support and is kind of cute — but I don't trust it to see me through a marathon (it's a bit too heavy). I'm always on the lookout for a better option, so when I came across new running shoe company Hilma, I was intrigued. What piqued my interest about the brand, which launched in October 2022, is that its footwear options are anatomically designed to suit a woman's foot shape.
According to Hilma founder Brooke Torres, the fit is the defining factor for the brand because most running shoes are actually designed based off the measurements of men's feet. This means that certain qualities needed in a woman's sneaker are generally not addressed in traditional running shoes. "There are front of foot, mid-foot, and heel differences between men and women," says Torres, who is an ultra-marathoner and a RRCA certified coach. "For example, men tend to have a higher volume heel, so the heel collar on running sneakers will come up higher. However, because a woman's heel tends to be narrower, [when she wears a shoe based off of mens feet] this could result in her foot slipping out of the shoes."
In addition, according to Brian Dennis, head model maker at Yin Hwa USA Corp, some companies assume women have narrower feet, overall, compared to men's feet. Because of this, they'll "shrink" a mens-based shoe design for women without adjusting anything else. Recent studies show, however, that woman's feet are not algebraically scaled, smaller versions of a man's feet. In fact, women have a much wider forefoot and narrower heel compared to that of men; a woman's foot is more triangular, too, while a man's foot is more rectangular. "For Hilma's sneakers, we made sure to keep a wide forefoot for the toes," says Dennis who made Hilma's last, a solid form that serves as the mold for shoes.
As Torres developed her sneaker prototypes around the specific concerns of women, from the toe box and heel hold to weight distribution, she even got into the minute details like the fit for women who are pregnant. "Some of the big running companies will not test pregnant runners, for example, but your feet changes when you're pregnant. You tend to have more swelling, your foot size can increase, so we [included this group in our testing] to have that range of people for fit," Torres tells me.
Hilma's attention to detail paid off. After three years of R&D, her sneaker, dubbed "The Everywhere," launched in 2022. The style comes in 45 different sizes with three various types of fits that address the widths and toe-box shapes of women's feet. Fit 1 has a narrower heel hold, narrower midfoot hold, and narrower toe box, for example. Fit 3 boasts a wider heel hold, wider midfoot, and wider toe box, accommodating a more full-volume foot which works well for people with longer second toes and also provides room for bunions. The $159 sneakers come in five colors, ranging from green and purple to gray.
Once I was caught up on all the nitty-gritty details about the shoe, I had the opportunity to test out my very own pair of Hilmas. In order to determine my personal fit, I filled out the company's personalized online quiz where I answered questions about my shoe size, where I plan to wear my sneakers, and other brands of running shoes I liked best. After the test, I was matched to Fit 2 in a size 6 — this silhouette has a narrower heel hold and midfoot hold, but features a wider toe box fit, which better accommodates a more rectangular toe shape. I went with the gray colorway, though Torres notes that green is by far the most popular choice amongst Hilma's customers.
The shoes arrived within a few days of placing my order. When I tried them on around my apartment, they felt nice and light on my feet. The real test, however, was how the Hilma would hold up during a Saturday morning run around my neighborhood. As I made my way down the street, I noticed because they were lighter than my usual running sneakers, my feet didn't feel dragged down with each stride.
Additionally, I felt the slightest spring with each step I took, which propelled me further ahead. My ankles, too, felt supported which was a plus for me since I suffer from overpronation while running. Typically, I can make it maybe two miles before I am out of breath and tired — my cardio endurance has plummeted to zero in the last two years — but on this weekend, I ran three miles without feeling fatigued. Maybe I was in a good head space on this day, or maybe, just maybe, it was the well-fitted Hilmas that got me over my usual milage goal.
Although I have yet to test the sneakers in another setting, like on the treadmill or on dirt paths, Torres assures me that they can be worn in myriad environments. (They are named The Everywhere style, after all.) "We designed the Hilma for roads and gentle trails because I felt like there was a spontaneity to having an adventure that takes you between road and dirt path and grass, which we really wanted to enable our consumers to do," Torres says. "All three sneaker fits have the same cushion and tread for that grip, [especially when you're running on a rolling hill]."
I plan to go on another run this weekend and you can bet that I'll be lacing up my Hilmas for a three-mile (perhaps four, if I am feeling adventurous) journey.