Fun February Outfits To Get You Through The Chilly Month In Style
@cinnamonryan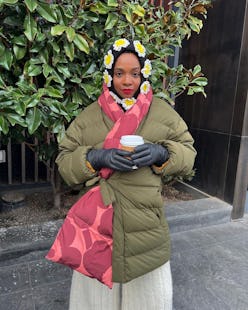 We may receive a portion of sales if you purchase a product through a link in this article.
You're almost there. Before you know it, spring will be here — it's March 20, to be precise — and you can bid adieu to that puffer jacket you have a love-hate relationship with, as well as those touch-screen gloves you're constantly misplacing (IYKYK). Until then, why not make the most out of your winter wardrobe? Get creative with layering. Team contrasting colors you usually wouldn't wear together. The world is your oyster! Heading outdoors in fun outfits this February is key to keeping your spirits high, even on the dreariest, downright miserable days.
Though February can often feel uninspiring from a style perspective, there are plenty of can't-miss fashion moments on the horizon. First up is New York Fashion Week, which kicks off the four-week-long fashion month circuit. On the streets, expect a medley of ultra-chic ensembles from editors, buyers, and influencers. Then there are plenty of Sunday night award shows — think the Grammys, BAFTA, SAG, and more — where Hollywood's top A-listers bring out all the stops with their looks. (Jenna Ortega's Gucci number at the Golden Globes? Major swoon.) Lastly, although it's not generally associated with fashion, the Super Bowl this year is sure to be a sartorial touchdown — because Rihanna never fails to serve up head-turning outfits. See? You have a lot to look forward to over the next 28 days.
So let's get through February in style, shall we? Below, discover (and shop) energy-lifting looks for every day of the month.
Fun & Fuzzy
A cozy topper is a must in February — so why not go with a colorful, fur-trim style? Extra credit if you throw a matching bag into the mix.
Make It A Midi
Sometimes you need a break from your trusty jeans. But if true blues are your bottom of choice, shake things up and opt for a denim midi skirt.
Craftcore Prevails
It's nearly impossible not to feel chipper when wearing an ultra-colorful, crafty-looking knit. Push the look further by pairing it with an eye-catching dress.
Really Romantic
On the hunt for a less expected Valentine's Day outfit? Consider your search over. A floral crochet sweater and slip skirt look is both comfy and chic.
Knockout Knits
A bright sweater set is a luxe (and equally cozy!) alternative to sweats. Pile on some dainty jewelry, and you're ready to go.
Party Pants
From checkerboard to stripes, printed trousers are a no-fail way to give your looks a playful spin. Ground the jazzy bottoms with polished pieces, like a fuzzy jacket and leather boots.
Bright Bag
If vibrant colors feel outside your comfort zone, start slow by incorporating a bold bag into your look. Anything in the green family packs a punch while still coordinating with neutrals.
Just For Kicks
New Yorkers (or really anyone that's always on the go) know the power of a comfortable, statement-making sneaker. This sunny yellow pair looks especially cool with a leather jacket and silk skirt, as exhibited above.
Ballet Babe
In your balletcore era? Hit the studio (or streets) in a trendy one-piece, fun leg-warmers, and cute scrunchie. The more your outfit resembles Natalie Portman's in Black Swan, the better.
Attention-Grabbing Leggings
Ditch your trousers and opt for stretchy leggings instead. This graphic pair from Siedres is dopamine dressing at its finest.
Green Queen
Here's a simple yet impactful styling trick: stick to neutral attire, and sprinkle in a few bold accessories in the same shade. The result is playful but not overly so.
Color Play
A prime example of teaming two colors you might not think to wear together, above. You'll probably forget it's winter (at least until you're outside) when wearing this citrus-y orange and bubblegum pink mash-up.
Cargo Craze
A fashion girl-favorite, cargo pants are continuing to gain momentum in 2023. Wear yours with a quirky printed top and casual sneakers.
Snazzy Scarf
Fun and functional, a vivid wrap is an easy way to jazz up your winter go-tos. Try wearing the vibrant accessory with rich, saturated shades.
Punchy Puffer
A surefire way to boost your mood? Trade in your black puffer for a retro-cool stripe iteration. And if there's snow on the ground, add a pair of durable boots to the look.
Collar Me Obsessed
An exaggerated neckline can add intrigue to an otherwise low-key look, especially when you let it peek out from under a jacket.
Standout Sneakers
If you're worried your work suit reads stuffy, color-blocked trainers can help with that. (If that's a no-go from HR, opt for flats in a zippy shade.)
Sweater Weather
A cozy pullover should suffice for outerwear if you live somewhere relatively warm (lucky you!). Team it with straight-leg jeans and sneakers, and you're ready for anything on the agenda.
Have-To-Have Hat
Thanks to the influencer set, fuzzy bucket hats are now omnipresent. Instead of going for black or brown, consider an of-the-moment hot pink style.
Simple & Sleek
In search of all-purpose outerwear? You can't go wrong with a wool camel coat. Style it with a blouse and trousers for the office and a tee and jeans on the weekends.
Punchy Pastels
Pastels may be synonymous with spring, but that doesn't mean you can't bring out the cheery shades a bit early. Go for a puffer in light purple or minty green, then add extra flair via funky patterned pants.
Crochet All Day
There's something so fun about a crafty balaclava. Wear the accessory with understated separates or channel your inner "weird girl" and go with quirky pieces — the styling potential is endless.
Cool Clogs
There's no sign of the clog trend slowing down any time soon — so if you haven't yet bought a pair, it's not too late. Pair the shoes with leg warmers for a right-now finish.
Burst Of Color
Animal prints, especially leopard, are always in vogue. But sometimes, they need a little sauce — like a punch of pink via an accessory.
Stick Of Butter
Remember butter-hued outfits circa 2018 (s/o Harling Ross)? Bring the social media-loved look back for round two.
Dress Refresh
It's easy to forget about your dresses in the winter, and I'm betting you probably have a favorite hiding in the back of your closet. Give it a much-needed spin around town — and should you want to add more flair to the outfit, throw on bold frames.
Lovely Lace
Lace detailing gives any look a feminine touch. Up the romance even more with a pretty pink blouse.
One-And-Done Dress
When you feel less than motivated to put together an outfit, a cozy dress is the answer. Work some luxe boots and chic sunnies into the look, and you'll look pulled together in a pinch.