Why Don't You Book A Valentine's Day Getaway?
No, it need not matter whether you're in a relationship or not.
Alila Ventana Big Sur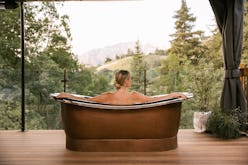 Coming from someone who has spent equal parts of her adulthood both single and in a relationship, I can assert without bias that making plans for Valentine's Day — regardless of your romantic entanglements or lack thereof — is indeed a good idea. But I'm not talking about dinner reservations or theater tickets. The kind of plans that feel worthy of making in honor of February 14 are those of travel. More specifically, a long weekend somewhere relatively close-by but distant enough that it warrants an overnight stay, planned activities, and a fresh perspective on a new or familiar place.
Why? A few reasons. For starters, Valentine's Day is in the winter, which means in several parts of the country dreary, soul-sucking weather has taken its toll and a dose of excitement is in order. Also, booking a trip themed around a holiday that celebrates indulgences (Chocolate! Massages! Champagne!) sounds like a pretty great idea. And if all else fails, it gives the perfect excuse to go somewhere in the states that you've been meaning to explore but haven't had the chance to yet.
Somewhat regrettably, the holiday lands on a Tuesday this year making it slightly trickier to plan a long weekend. But whether you celebrate Valentine's Day the weekend prior or take a couple of days off mid-week, there's never been a better time to send a vacation request. Ahead, ideas for a Valentine's Day getaway based on what you want out of the trip and where you're located in the country.
For The Aesthete
If granular hotel details like light sconces or paint hues are capable of making or breaking your stay, consider a getaway tailored to the design-inclined. Head for renowned properties by interior legends or try an under-the-radar pick — options for the aesthete abound.
West & Northwest
Despite acting as an enclave for the upper echelons of society, there remain pockets of Malibu, California that echo what it used to be — a low-key beach town. The newly-renovated (and renamed) Hotel June Malibu was originally opened in the '40s as the Malibu Riviera Motel and owner Gary Wilcox (son of the original owners, Wayne and Helen) in partnership with Proper Hospitality are hoping to preserve that pared-back essence. For Valentine's Day, book bungalow 13 where Bob Dylan wrote his 1975 album, Blood on the Tracks and enjoy considered design choices like original photography by Wayne Wilcox, Tivoli radios, and custom deadstock vintage robes.
Southwest & Southeast
No two adobe rooms are identical at El Rey Court in Santa Fe, New Mexico. The design-forward property was once a roadside motor court constructed in 1936 and now plays host to modern travelers with an appreciation for an immersive, community-first atmosphere. El Rey Court is situated on five acres and guests can explore its varied corners, whether it's sipping mezcal at the outdoor bar, La Reina or catching up on your book by a kiva fireplace. If you get hungry, head a few steps out front to the Turquoise Trailer food truck that serves up breakfast tacos, gourmet grilled cheese, and other savory bites.
Mid-West
Loft-style windows, hardwood flooring, and relaxing mid-century modern furniture come together in Detroit's beloved Shinola Hotel. Take in natural light and the property's earth tone palette by day and the scenic twinkle of the city view by night. Shinola Hotel also has much to offer by way of culinary experiences, like a Living Room and Evening Bar for nighttime tipples plus restaurants including San Morello for Southern Italian cuisine and The Brakeman or Penny Red's for fried chicken. And because this is Detroit, don't miss out on the hotel's art collection with works from acclaimed artists such as Nick Cave, Beverly Fishman, Tiff Massey, and Jason Revok.
Northeast
Opened in 2018 and a Berkshires staple ever since, TOURISTS is a haven for design and nature lovers alike. It's located on the banks of the Hoosic River and offers 48 rooms, nearby trails and vistas, installations, and other considered details. The property's creative mix of partners includes Wilco's bassist, a brewery owner, and Brooklyn Magazine's founder. Enjoy a leisurely Valentine's Day getaway here and spend your mornings sipping espresso in a rustic suite, afternoons exploring riverbanks, and evenings at The Airport Rooms — TOURISTS's stylish (but unfussy) cocktail lounge and restaurant.
For the Spa-Dweller
Spend your Valentine's Day slipping into a plush robe and gliding from the steam room to a massage (or facial, or yoga class). After all, regardless if you're spending the holiday with a partner, friend, or yourself there's no better justification for a day of indulgence than on February 14.
West & Northwest
Embodying the word escape in its purest form, Alila Ventana Big Sur is a resort where peace of mind is mastered. The resort is perched on a hill, cradled by ancient trees and overlooking the vast Pacific coastline. This secluded property has a spa with atmospheric amenities like outdoor treatment cabanas so you can feel the ocean breeze and breathe in forest fragrance. Enjoy unique treatments like a Jade hot-stone massage that's meant to resemble the smooth cobblestones dotted along the California shore and finish up the day with a soak in the outdoor hot tub with unobstructed views of the Redwood forest.
Southwest & Southeast
The long-awaited reopening of Mii amo lands on February 2 — just in time for Valentine's Day. The iconic Sedona, Arizona spa and resort returns after being closed for two years and undergoing a $40 million renewal and expansion. The property is tucked away in picturesque Boynton Canyon, surrounded by red rocks and pinyon pines. Partake in one of Mi aamo's 'Journeys', which are all-inclusive of accommodations, treatments, food and beverage, and programming. Noteworthy updates include renovated casitas, brand new rooms and suites, a new minimum treatment length of 75 minutes, plus a sensory garden and signature restaurant.
Mid-West
Escape to the rustic Big Cedar Lodge this Valentine's Day for a wellness getaway nestled in nature. The property's Cedar Creek Spa is 18,000-square-feet and is designed with hand-hewn timber ceilings, natural stone floors, and handcrafted stained-glass accents for that distinct lodge ambience. Set off from the grand double staircase to one of the treatment rooms (each with its own fireplace) or wind down at the indoor grotto pool with stone walls, underwater lounges, and secluded coves. And no spa day here is complete without taking in the views of Table Rock Lake, particularly from a private open-air shower.
Northeast
The Catskills and Hudson Valley are popular upstate New York escapes, but head northwest from there and you'll land in the idyllic Finger Lakes region with its historic accommodations, 11 picturesque bodies of water, and world-class wineries. The Inns of Aurora is located along Cayuga Lake and is made up of five restored homes dating back over a century. The boutique property's spa (called Spa at the Inns of Aurora) is set on 15,000-square-feet and offers all the thoughtful amenities you'd expect from a luxury spa — in addition to unparalleled views of the lake, surrounding vistas, farmland, and lavender fields.
For The Food & Wine Connoisseur
Do you plan your trips around what's on your plate and in your cup? Good — there are plenty of worthy destinations to indulge on epicurean delights this Valentine's Day.
West & Northwest
Santa Barbara (also referred to as the 'American Riviera') has long been known as a destination for ocean dwellers, but in recent years this central California gem has become a food hub in its own right. There are currently 15 Michelin-guide restaurants and with burgeoning wine districts like The Funk Zone, it's no surprise that it was declared Wine Enthusiast's Wine Region of the Year in late 2021. Book a stay at Mar Monte Hotel, an affordably-priced oceanside property originally built in 1931 in the Spanish Revival style. When you're not enjoying crab and crudo at the hotel's onsite Costa Kitchen & Bar, restaurants to add on your list include L'antica Pizzeria da Michele, Rare Society, Finch & Fork, and The Ellwood (opening soon).
Southwest & Southeast
It's hard to resist the siren call of the New Orleans food and beverage scene, so why not give in and plan an epicurean-themed Valentine's Day getaway to The Big Easy? The city is replete with stylish accommodations, ranging from the elegant Four Seasons Hotel New Orleans on Canal Street to the boutique Hotel Saint Vincent in the Lower Garden District and The Chloe in Uptown. Come hungry — eating and drinking is a pastime here. A few TZR favorites include oysters at Seaworthy, Coctel de Camarones at Cane & Table, martinis at Commander's Palace, a cheese plate at Bachannal Wine, tinned fish at N7, among many, many others.
Mid-West
The midwest is a treasure trove of 'undiscovered' foodie cities, but if you're looking for a culinary hub that's easy to reach and that has buzzy restaurants both established and emerging, make it Chicago. Voted in 2022 as the number one best midwestern food city in America, the Second City is ideal for an indulgent Valentine's getaway. Book a room at the Park Hyatt Chicago located on the Magnificent Mile for breathtaking views and exquisite service. From there, try to snag a reservation at Alinea or Esme. But if a hundreds-dollar tasting menu isn't your bag, rest assured there's something for everyone. Middle eastern bites at Galit, fresh pasta at Monteverde, or a burger at Au Cheval –—it will feel like a culinary "choose your own adventure" of mouthwatering proportions.
Northeast
For New England charm at its finest, head for the romantic town of Kennebunkport, Maine. Each February, the city strings glittering red lights around town in the spirit of the holiday and local businesses follow suit with special 'red tag' deals. For foodies, there's much to delight in during Kennebunkport's off-season. Begin at Earth at Hidden Pond, a farm-to-table institution that's offering a five-course pre-fixed menu February 10 through 12 with menu highlights like Mere Point oysters, torchon foie gras, and raspberry souffle. You'll also want to enjoy a meal at Ocean at Cape at Arundel Inn & Resort not just for its breathtaking, front-row views of the ocean but for the food, too (think: osetra caviar, butter bathed Maine lobster, wagyu ribeye, and a praline milk chocolate ganache torte). As for where to stay, book a room at the nautical retro-inspired Yachtsman Hotel & Marina, which usually closes October through May but is staying open this winter for the first time ever.
For the Outdoor Enthusiast
Wellness means different things to different people, and for those of you out there who appreciate self-care amongst the trees and fresh air, seek out a destination this February 14 where you can be one with nature.
West & Northwest
In the heart of Idaho's Salmon River Mountains lies Mccall, a picturesque destination once named among the best hidden ski towns by National Geographic. Here, Shore Lodge sits at 5,000 feet among glacier-carved lakes a mere two-and-a-half hours from the accessible hub of Boise. Guests booking a Valentine's Day trip here will be able to bask in the natural splendor with winter activities like a sleigh ride on the slopes, snowmobiling, and a dip in the area's ancient hot springs.
Southwest & Southeast
For outdoors enthusiasts looking for a romantic getaway among the trees, Highlands in North Carolina fits the bill and then some. Head for Half-Mile Farm for an adults-only experience that's surrounded by tranquil landscape and Blue Ridge mountain vistas. Here, guests can hike the snowy riverside forest trails or book a guided fly-fishing session. For an especially atmospheric end to the day, book the two-story Captains Cabin or the Woodland Luxury King Balcony Fireplace room.
Northeast
If the thought of curling up in an Alpine-inspired lodge tucked away at the base of a mountain sounds like your idea of a Valentine's Day well spent, head for Hudson Valley, New York newcomer Little Cat Lodge. The property offers convenient access to skiing and snowboarding. After a day in the snow – whether on the slopes or a nearby hiking trail — cozy up with an après-ski cocktail and meal at the on-property restaurant. Little Cat Lodge was founded by restaurateurs Matt Kliegman and Noah Bernamoff and unsurprisingly, the menu here is killer. Standout dishes include parsnip and chestnut soup, duck leg cassoulet, Faroe island salmon, and warm spiced pear crisp.