Forget All Those Cutesy Nail Trends — EmRata's Latest Mani Was Made For Edgier Types
@emrata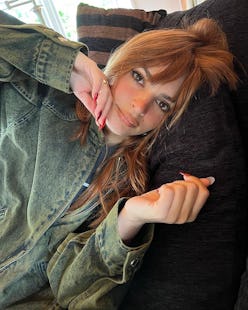 Few models ever manage to make a truly lasting cultural impact, but fueling (and starting) year-defining trends is practically a weekly happening for Emily Ratajkowski. It's always so casual too: rocking up to a fashion show already wearing a dramatic wig, uploading a carefree selfie showing off a hot new hair color, demonstrating how to wear the trickiest garments on a walk with her dog. Even amid an especially influential summer, though, Ratajkowski's new snake nails — or "serpent nails", as she dubbed them on Instagram — are something special.
If the current top manicure crazes (think "strawberry milk nails" and their ilk) are a little too sweet for your liking, EmRata's latest look is considerably edgier. That applies to the rich, red-and-black color scheme she went with, the elegant almond shape, and, of course, the trippy, watercolor-style pattern that looks like serpentine scales swirling around her nail beds. Ratajkowski uploaded some close-up shots of her manicure to Instagram, where they fit right in with pictures of some family berry-picking. Notably, she kept the actual snake detailing to a minimum, with several nails featuring nothing more than some subtle red glitter. That just helps the more intricate designs to stand out, though.
Between her yellow-green denim jacket, "cowgirl copper" hair color, and outright witchy manicure, it sure looks like Ratajkowski is already mentally in autumn — and with temperatures this brutal, who could blame her for getting a six-week head start? The most forward-thinking celebrities already have their sights set on September (and beyond), rolling out early looks at the makeup trends, hair colors, and fall nail colors poised to dominate the season.
The snake-print nail trend and its very close cousin, crocodile nails, are already gearing up for a big few months. Already, celebrities like Dua Lipa, Latto, Kylie Jenner, and Megan Thee Stallion have given them a go, offering up plenty of color pairing ideas to get you started.
There's already so much celebrity fall beauty inspiration and temperatures are still in the triple digits — just imagine what the stars will deliver when things actually cool off.