Emily Ratajkowski's Edgy, Artsy Haircut Sets Her Up For A Whole New Era
Allow her to reintroduce herself.
@emrata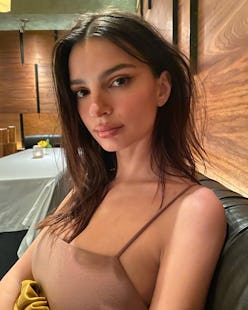 The art of reinvention is absolutely crucial for sustaining celebrity status, especially for those so immersed in the fashion industry. Since her mainstream breakthrough, supermodel Emily Ratajkowski's managed to carve out a distinct, instantly-recognizable aesthetic for herself, yes, but she's unafraid to experiment with dramatic, edgy looks outside of it, too. At the star-studded Marc Jacobs presentation in New York City, Ratajkowski managed to steal the spotlight by debuting a surprising new haircut that utterly transforms her vibe in the coolest way possible. Emily Ratajkowski's bob with bangs is a major departure from her usual beachy-meets-sultry look, but that's a large part of why the new hair is so great. It's a new era for Ratajkowski — and it might just shape up to be her biggest and best yet.
Before making an appearance at the fashion show — which was also attended by fellow cool-girls like Sofia Coppola, Tina Leung, and Debbie Harry — Ratajkowski stopped to make a haircut-teasing TikTok, much to the delight of her 2.3 million followers. Many thought the wavy, tousled bob and its micro-bangs were faux until she turned up at the show, which they just might be — only time will tell if she went for the real deal or not. Ratajkowsi's makeup was in-line with her usual look (please note her signature sunburn blush trick), but her hair couldn't have been more exciting. The new bob was exceptionally shiny, cut to a jaw-skimming length and infused with plenty of waves and curls. The choppy bangs get shorter towards the center of her face for a Joan of Arc-ish feel, but many fans are comparing the look to a more contemporary femme fatale: Pulp Fiction's Mia Wallace.
Interestingly, Ratajkowski's dramatic new haircut comes just days after her recent ex-boyfriend, Pete Davidson, debuted his own surprising hair transformation: a totally shaved head. Going for an extreme makeover after a breakup is a common trope for a reason — it really does feel like an out-with-the-old fresh start. While Ratajkowski's exciting new look is probably just spurred on by her own creativity, longing for a physical change after a breakup is a pretty universal feeling.