Hailey Bieber's Tropical-Toned Watercolor Manicure Might Make You Dizzy
But you won't be able to look away.
@haileybieber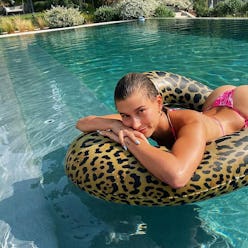 You see it with all the greats — regardless of if you've fronted a major movie franchise, a powerhouse business, or started some blockbuster beauty trends, the biggest players in the game all refuse to be defined by what they've already done. In Hailey Bieber's case, she's distancing herself from the dainty French tips and solid-color chrome nails that she helped propel to mega-viral status, and replacing them with their polar opposites. Hailey Bieber's watercolor nail art combines the fluidity, texture, and opacity of actual paint with a dizzying blend of colors and patterns for what's likely her most maximalist manicure ever. Considering Bieber built her personal and professional brands on a streamlined, pared-down approach to aesthetics, this summer could hold a hard pivot for the skin care mogul.
Bieber oh-so-casually unveiled the extreme new look as part of an Instagram photo dump featuring an intimate collection of poolside photos. Alongside a small pile of self-improvement books and Rhode products, Bieber posed in a blue bikini, green socks, and showed off the manicure in a few specially-dedicated shots. Largely pulling purple, yellow, red, white, and red tones, each finger has something totally different — some are colored French tips covered in dot detailing, some are painterly blurs of brush-like strokes, and some even have crocodile print scaling down the nail.
On the whole, Bieber seems to prefer keeping her new manicures as supporting players in her Instagram posts rather than front-and-center stars, which really says something about how much she must love the fresh set. While it's yet to be revealed exactly which celebrity nail artist is behind the ultra-creative look, it could be the work of manicurist Zola Ganzorigt, who brought Bieber's chrome-finish "glazed donut nails" to life originally.
It's also worth noting that Bieber's been on a streak of bold manicures since spring, thrilling fans with her neon-green Coachella nails back in April.
No matter if Bieber returns to her low-key roots or continues to go for a more-is-more approach, expect whatever she chooses to trend anyway. Behold, the power of Bieber.