Emily Ratajkowski's Sharp New Layers Make Her Look Permanently Contoured
Another day, another slay.
Arnold Jerocki/GC Images/Getty Images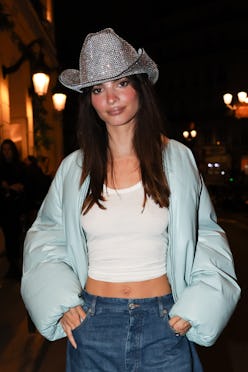 For those not personally keeping count, Emily Ratajkowski has now debuted a new haircut or extreme style every month of 2023 so far. While her commitment to full aesthetic transformation via wigs, extensions, clip-in pieces and actual haircuts alike is beyond admirable, the real feat here is that she managed to retain her sultry signature look even through all the hairstyles changes. Unsurprisingly, though, Emrata's best look of the year (presently, anyway) is the only one she liked enough to make permanent. Emily Ratajkowski's long layered haircut is just further proof that it's not always necessary to sacrifice six inches and several weeks agonizing over it to make a radical transformation.
The first look at Ratajkowski's fresh cut came via Marc Jacobs' latest blockbuster ad campaign, which featured the supermodel done up in intense, bruise-like makeup, clutching the line's just-added handbags. To drive home the grunge-glam vibe, her long bangs and straight hair seem styled to simulate a stringy, unwashed effect. Even underneath all that product, though, fans spotted Ratajkowski's bone structure-skimming layers and freshly-trimmed fringe. In other recent photos shared by the star, the seamless blend between each section of hair — not to mention the feather-light, clean-looking ends — all suggest it was cut with a razor rather than shears.
Notably, Ratajkowski's bangs seem to have gotten the same treatment. The past few months have seen celebrities like Julia Roberts and Lizzo trade in their open-parted curtain bangs in for a classic, straight-across style, and the sexy, eyelash-skimming length of Emrata's look is all the reason needed. The soft, razor-cut ends of her tapered bangs and layers fall near some of her most prominent facial features, helping the hair act like permanent contour — that face-defining effect is part of why long layers are always in demand. Her relaxed look also flies in the face of conventional thinking that long hair is more unwieldy or higher-maintenance than shorter cuts.
Two of Ratajkowski's boldest looks of the year — a choppy pixie and a shaggy, micro-bang'd lob, both wigs — were a fraction of her current length but called for plenty of product, styling, and trims to truly nail. Based on her whirlwind spring of high-profile ad campaigns, carpark makeouts with popstars, and exploring the city with her adorable son, it's safe to say Ratajkowski's haircut revitalized more than just her everyday aesthetic.