These Celebrities Make The Case For Skipping Straight To Fall Nails Right Now
@haileybieber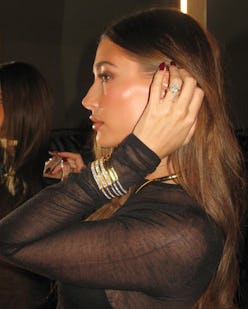 Though summer 2023 has simultaneously felt two seconds and 2,000 years long, its end is finally in sight. With one month left of half-day Fridays, beach trips, and white espadrilles, you'd think celebrities — and everyone else, for that matter — would be desperate to wring out the final few drops of bright, colorful, and ultra-cheerful summer trends. But it's looking like Hollywood's most stylish young stars are already thinking well beyond August, and their beauty looks are right there with them. Already, summery manicures and styles are being traded in by celebrities for fall nail colors, skipping the upcoming (scorching) month altogether and settling firmly in pumpkin spice latte season.
Really, nail color choice is probably the easiest way to slowly start transitioning your looks to a more autumnal energy. Warmer beiges, grays, greens, reds, and shades of black are an ideal place to jump in. When in doubt, just take a summer color and swap it for its fall alternative: popsicle orange for burnt orange, slime green for a pale jade, and pool blue for a denim. Or, if you're not quite there yet, just continue enjoying the final weeks of summer while it's still here — soon enough, after just a few sub-zero days, everyone will be wishing for the warmth again.
Get inspired early with these celebrity-approved fall nail moments.
Dua Lipa's Dark Aura Nails
Lipa's a master at swapping out her tropical-toned nail art for cold-weather alternatives, and her aura nails are a great example. She traded in her poolside-ready polish for deep, glacier-blue more suited for peaking out from a leather jacket sleeve than wrapping around a frosé.
Jennifer Lopez's Versatile Greige Nails
Despite her summer birthday, Lopez's looks always come alive in the autumn — especially her ever-changing manicures. While her chocolate-brown crystal pedicure was a close contender, nothing beats the versatility of this muted greige, topped with tons gloss.
Hailey Bieber's Hot Cocoa Nail Color
Though a vocal nail art aficionado, some of Bieber's best-ever manicures are monochrome. Cocoa-colored manicures exploded in 2022, and the trend is expected to rage on through this fall and winter, too. Notably, Bieber went for a warmer, milk chocolate color rather than a dark, cool-toned brown.
Megan Thee Stallion's Chocolate Split Tips
Now this manicure essentially sums up Meg's entire aesthetic — she'll join in on a trend, though not without adding her own distinct twist. She, too, is on board with the brown nail trend, but layered it against a bright white diagonal French tips for extra oomph.
Kendall Jenner's Traditional Oxblood
It doesn't get much more classically autumnal than an oxblood manicure. It's the fall equivalent to those bright, nearly neon cherry-reds beloved by Jenner in the summertime.
Rihanna's Black Fire Nail Art
Black nails are a sleek neutral for any time of year, but always feel especially cool come fall — maybe it's the spooky season factor. Rihanna's magic touch extends to manicures, too, and she made the color all the more interesting by opting for flame-shaped nail art in lieu of French tips.
Selena Gomez's Martini-Ready Olive Nails
Other cocktails might have edged out the martini as the it-drink du jour, but we'll always have olive manicures — Gomez will, too. The yellow-brown tint in the nail polish shade is the real story here, a warm-and-cozy color that immediate evokes the best parts of the season.
Kerry Washington's Antique Gold Tips
Bronze and gold are two of fall's most opulent color choices, perfect for big events and special occasions. Washington brilliantly decided to concentrate all the color at the tips, where the gilded shade looks like it's dripping down the nail beds — the ideal low-key nail art.
Lana Condor's Moody Gradient Nails
The only thing better than one trending fall color is combining two of them. Condor has some of the best manicures in the whole game, but she's really outdone herself. The combination of dark denim blue with aubergine is great already, but blending them together into a faded gradient effect makes it feel all the more bespoke.
This article was originally published on