Cataloguing Kylie Jenner's Best-Ever Nail Art Is A Truly Endless Challenge
How does she have so many?
@kyliejenner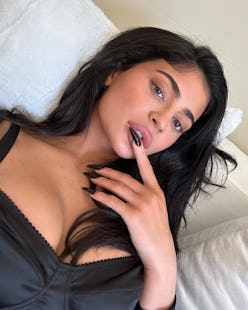 It's gotta be good to be Kylie Jenner. Not sure about you, but personally, the cars and jewels and closet full of couture seem great but pale in comparison to one thing: just how often she gets her nails done. It's not even about the frequency, really, but the rich attention to detail and custom-created designs — not to mention the whole house-call factor. Not only are Jenner's best manicures all totally distinct and unique, but the salon comes to her. That's the kind of perk right up there with jet access, IMO.
Jenner relies on a few top-notch celebrity nail artists to bring her ideas to life — including Lisa Kon, Chaun Legend, and Kim Truong — but manages to put her signature spin on all of them. While Jenner's not above joining on on an existing trend (see: brown nail polish and assorted French tips), but for the most part, she's creating her own. By combining different nail shapes and lengths with personalized art, 3-D accents, charms, and intricate designs, she's constantly popping up on Instagram or the television with some of the most interesting manicures in the entire industry.
Ahead, check out some of Jenner's all-time best nail moments.
Pearl French Tips
The only thing better than a mother-daughter manicure (which Jenner and sweet baby Stormi do often) is showing them off alongside matching rings. While the point of this photo was to display the toi et moi diamonds, you can't help but be drawn to the tiny, gleaming pearls scattered all over her French tips.
Holographic Glitter Nails
TV static, but make it glam. Jenner's silvery, spangly, square-shaped nails are practically vibrating thanks to all that holographic sparkle packed in. Jenner's gotta be careful out there in the L.A. sun — the light beams bouncing off these nails are blindingly bright.
Checkered Tip Nails
Checkerboard nails have been bubbling just under the radar for a year now, but Jenner's version could be the thing to take them fully mainstream. Not only did she keep the pattern diagonally on her tips for a pseudo-French style, but she did it all in contrasting shades of neon for even more pop.
Pink Polka Dot Nails
Speaking of neon — every DayGlo shade of pink, orange, and red is present in Jenner's polka dot-covered French manicure. What makes the look especially cool, though, is the gradient effect created by the dots' increasing size down the length of the nails.
Lip Gloss Nails
Sometimes, the most impactful manis are the simplest. Jenner tried out the viral "lipgloss nails" trend, which calls for a super-shiny shade of polish closely matching your own skin tone. It makes your nails look long, natural, and so clean — pure sophistication.
Orange French Tips
See, this is the Jenner M.O. mentioned above — doing long orange tips would be cool on their own, but she had to take it a step further with 3D dew drops speckled across each one. She almost always adds an unexpected element to keep the looks fresh.
Pucci Print Swirls
Mesmerizing is the only way to describe Jenner's Pucci nails, an instantly-recognizable tribute to the legendary designer's signature prints. Painstakingly recreated on each nail, her ring finger even features a tiny Emilio in script.
Butterfly Nail Art
You could build an entire dissertation around Jenner's thing for butterflies. She's done butterfly nail art before, but this look is a standout thanks to the large design split down the middle.
Birkin-Brown Nail Polish
Does anything look so sophisticated as brown nail polish? Maybe carrying that gator-skin Birkin, but that's the only thing even close. Jenner matched her razor-sharp nails to her purse (or perhaps the other way around?) for a big photoshoot, but loved them so much, she decided to keep 'em around for a while.
3D Drip Nails
It's a whole new meaning for the "glazed" trend — Jenner's Kylie Cosmetics-inspired manicure features transparent, drippy overlay to look dipped in gloss. She's always loved a tactile, 3D manicure, but this one is extra special to the makeup mogul.
Cash Money Manicure
Until they make a billion-dollar bill, guess Jenner has to settle for hundies. Her cash nail wraps are overlayed on just a few fingers while the rest feature subtle ombré French tips. A super-bold, art-covered manicure is always a good idea, but this style breaks up the bills for a more low-key look.