Lizzo Just Combined *Three* Different Nail Trends Into One Brilliant New Manicure
A little of this, a little of that.
@lizzobeeating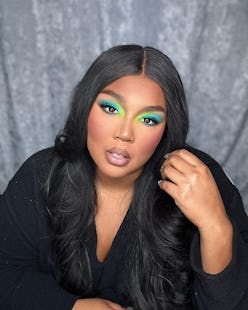 No one can discount Lizzo's innovative streak. Think about it — this is a woman who worked classical flute runs into the Billboard Hot 100, for crying out loud. It's part of why her résumé covers a lot more ground than just "musician." Among Lizzo's greatest creative strengths is her forward-thinking aesthetic vision, which covers everything from her on-stage costumes to the intricate, colorful manicures she chooses day-to-day. Just look at her newest manicure, Lizzo's "crocodile nails." Not only did she opt for a bold, textured style equally popular among her A-list cohort, but she managed to combine two other of-the-moment nail trends for a fresh, fun look totally her own.
Celebrity nail artist Eri Ishizu has brought so many of Lizzo's coolest-ever manicures to life (she also works with stars like Jennifer Lopez and Issa Rae), and this latest hybrid style is no exception. Hot pink and streaked with spidery silver webbing in between the "scales", the crocodile manicure combines Barbiecore with the chrome tend for a full-on hat trick — Lizzo's nails are an amalgamation of all three styles, and the result is so eye-catching. The real statement-maker here is the puffy, grooved texture Ishizu layered on, making the mani as much a tactile experience as anything.
The bright pink look continues a streak of especially elaborate manicures from Lizzo, arriving on the heels of green jewel-encrusted nails, airbrushed aura nails, and a pearl-covered, Chanel-themed look created for the Met Gala. Meanwhile, the crocodile pattern trend has been slowly building in moments — it's been spotted on fellow stars like Dua Lipa, Megan Thee Stallion, Latto, and Kylie Jenner, and even once before on Lizzo herself.
It's easy to see why the look is so popular, too. Take a page out of Lizzo's book and go for unbridled maximalism that embraces the moment's hottest colors, opt for an extra-long version like the type Latto loves, or follow Lipa's lead and concentrate the patterns toward the tips for a take on the French manicure. Lizzo, Latto, Lipa — join in on this and you're already in excellent company.