Kylie Jenner's New 'Strawberry Ice Cream' Manicure Looks Good Enough To Eat
@kyliejenner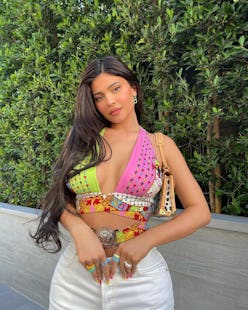 Oh, to be a guest in Kylie Jenner's sprawling, immaculate backyard. Even from the quick glimpses she posts on Instagram, the glistening pool and soft grass look like the most inviting place to spend the summer — which makes it a perfect spot for showing off her latest beauty looks, her preferred background for debuting experimental hair colors, makeup launches, and nail colors. In a dreamy sunset shot from the weekend, Jenner's new strawberry-pink manicure features the creamiest, freshest-looking shade for summer, made all the more appropriate by the carton of strawberry-flavored Häagan-Dazs ice cream she's enjoying outdoors.
Jenner's latest nail color continues her decidedly low-key streak, a quiet pivot toward a more overtly refined aesthetic that's resulted in her biggest personal brand shift since the notorious King Kylie era. Matching her newfound appreciation for neutral color palettes and demure clothing cuts, the soft pink shade is understated, elegant, and emphasizes her skin's beautiful undertones — the way all the best nude and nude-adjacent nail colors do. And in a fitting move, it looks like Jenner even got a corresponding pedicure to keep the strawberry ice cream vibes flowing all the way down to her toes.
And not to get all conspiratorial or anything, but while researching for this story (that is, scrolling through her Instagram posts), there's evidence that Jenner's love for strawberry-everything is reaching critical mass — it looks like she's even growing her own in the backyard, or is buddies with someone who is. On one hand, it's berry season in California. On the other, though, who's to say Kris Jenner isn't plotting a Kardashian Acres family farm business model at this very moment?
As Jenner's "quiet luxury" rebrand rages on, expect to see plenty more low-key manicure colors and beauty choices in general from the Kylie Cosmetics mogul. Think about it — when's the last time you saw her with anything resembling nail art? It's a whole new aesthetic chapter for Jenner, and she's just getting started.