Jennifer Aniston's Outfit From 1999 Is An Unforgettable One
A Rachel Green-approved look.
Frazer Harrison/Getty Images for A&E Network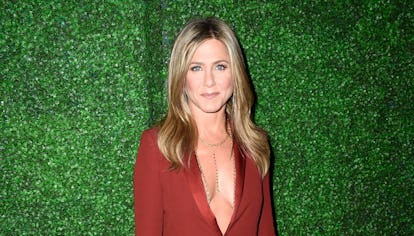 In the '90s, Jennifer Aniston became a notable style icon thanks to her playing everyone's favorite on-screen fashionista Rachel Green in Friends. The actor had a similar wardrobe as Green IRL, as they both adored the '90s fashion trends of slip dresses, knee-high socks, and miniskirts. Presently, Aniston still retains the badge of honor as a style queen, but her wardrobe has evolved to become more minimalistic and classic. (Think pieces that are less trend-driven and more timeless like a sleek trench coat or an everyday Celine handbag.) Over the years, Aniston's most iconic outfits, from her countless casually chic outfits to glammed-up looks, served as reliable sources of dressing inspo for many fans.
The 52-year-old actor has no doubt opted for more daring, statement-making ensembles when the occasion calls for one — like her plunging V-neck dress at the 2017 Vanity Fair Oscar party. From her best looks to date, it's clear that she knows what she likes — neutral tones over flashy colors. That goes for her accessories on or off the red carpet as well. When she's not working, she prefers her daily black crossbody bags and gravitates towards minimalist clutches or pouches for celebrity events.
That said, even The Morning Show actor is not immune to an of-the-moment trend or two as they come along such as wide-leg trousers or the classic '90s fall combo of a leather jacket and jeans. Yet, in true Aniston fashion, she manages to make these trendy themes feel timeless. In particular, throughout her years on the red carpet, whether she's making an appearance at a low-key media event or attending a major awards ceremony, Aniston's given the world a virtually endless collection of stylish ensembles anyone can appreciate.
Ahead, you'll see how the actor has adapted her style over the years through her most iconic looks yet.
This article was originally published on