10 Spring 2023 Makeup Trends That Are Perfect For Coachella & Beyond
@patrickta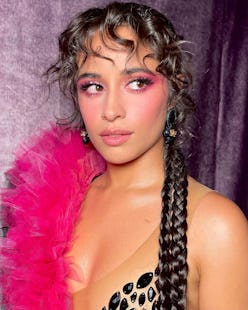 Sponsored

Style Oasis
We may receive a portion of sales if you purchase a product through a link in this article.
The onset of festival season each April presents the same dilemma. If you're going to Coachella, you need to figure out a weekend's worth of makeup looks to go with your outfits. And if you're not attending, you probably think you have to sit out of experimenting with the bold eyeshadow and sparkly face gems that flood Coachella street style photos every year. But, not so fast: While these festival makeup trends are well-suited for multi-day concerts, they can also be tailored for a night out or a more casual setting.
According to Euphoria makeup designer and Half Magic co-founder and creative director Donni Davy, "makeup is becoming less serious." In other words, you may be inspired to step out of your comfort zone and try something fresh for spring. For the most part, the season signals it's time to retire the traditional neutral tones that go hand-in-hand with fall and winter and switch to more vibrant and daring colors. Lori Taylor Davis, lead pro artist for Smashbox, says that this spring, beyond color, you can expect trends that play with dimension, shape, and texture, too.
You'll also be seeing a ton of nostalgia, as inspired by popular TV shows and anticipated films — Wednesday and the Barbie movie prove to be at the top of the list. Up there with them are '90s and Y2K throwback looks that continue to have a hold on Gen Z. Think Mac Spice lip liner and butterfly clips.
Regardless of whether you're going to be sporting sheer crop tops and joining throngs of festivalgoers in the desert or not, this spring is all about having fun with your makeup. Read on to find inspiration and expert tips on the season's top trends.
Color-Blocked Lids
Why pick one color when you can pick two? "Color-blocking is the easiest way to get a bold and graphic look that can also serve as a wing," explains Davy. Surprisingly, this trend is super versatile and works well no matter your eye shape. Davy says to simply choose the colors that best suit you. An easy way to test-drive color-blocking is by using one bold pigment all over your lid and then another shade from your crease up to your brow. For a less intense version, go for a single shadow on the lid and a different color of eyeliner along the top and bottom lash lines.
Barbiecore
Think all pink everything. Ever since Valentino's Fall/Winter 2022-23 fuchsia-clad runway, it seems that the vibrant hue has been everywhere — and it's not stopping at clothing. Fittingly, the movie Barbie also debuts this summer, ensuring the color is still relevant going into festival season. For this look, monochrome is the way to go. It's easy, with no guesswork involved, says Taylor Davis. You know you're going with pink, so pick an eyeshadow, blush, and lipstick that are in the same color family and play well together. An easy way to tie the look together is to "drape" the color on your cheeks, meaning you connect the eyeshadow to your blush on the high points of your cheekbone. Finish with a few swipes of a matching lipstick or gloss on your lips and you're ready to party with Barbie.
Grunge Eyeliner
Call it the "Kravis" effect, or maybe it stems from Wednesday. Whichever pop-culture moment serves as your muse, there's no denying that dark-rimmed eyes are having a moment. "A soft smoky eye or grunge liner is perfect for festival season because it doesn't require much upkeep," says celebrity makeup artist Carolina Dali. "Actually, the longer you wear it, the better it looks." Whether you're applying your liner fresh or you're making due with what's left from last night's look (it's not the best move, but it works here), imperfection is the name of the game. Go for a deep black kajal pencil that smudges easily, so you can buff it in with your fingers or a brush for an I-woke-up-like-this look. Be sure to load your lashes with mascara, too.
Heavy On The Highlighter
The glowier, the better is the vibe these days. For an all-over glow, start with a multitasking primer that's hydrating and illuminating, says Taylor Davis. Do your base makeup as you normally would, then add a liquid highlighter followed by a powder formula on the high points of your face. If you're not sure where these are, target the places that would normally catch the light, such as your cheekbones, bridge of nose, brow bone, and Cupid's bow. Adding some shimmer to the inner corner of your eyes makes for a nice pop as well. If straight up sparkles aren't your thing, go for more of a healthy, dewy sheen using liquid and cream products. Dali recommends misting your highlighting brush with a makeup spray and then swirling it into a cream or stick for a lit-from-within glow. And if you are heading to a festival, you can also slather on a glow-enhancing body balm that'll look stunning in pictures.
Y2K Blue Eyeshadow
The early 2000s are still heavily influencing makeup trends in 2023, specifically blue eyeshadow paired with a glossy lip. Dali reminisces fondly over "baby blue eyeshadow, blushing cheeks, and glossy Cupid's bow-defined lips." For millennials, you've done it once, and you can do it again. To keep the look modern, skip any formulas that are too powdery and keep your foundation skin-like, not cakey.
Luscious Lip Oils
"Lips can take a beating during festival season," Taylor Davis points out, but "lip oils act as a treatment and a pop of color all in one." A multitasking (and travel-friendly) product like a lip oil is the perfect item to throw in your bag for touch-ups throughout the day. And because the glossy-treatment hybrid has become so popular, there's no shortage of shades for you to choose from. Bonus: A glossy oil will go with any look — from no-makeup makeup to full glam — and can be worn as a topper over lipstick or on its own.
Face Gems
It wouldn't be festival season without a rhinestone… or 20. Davy, who is definitely a qualified pro at this point, says that face gems are a form of unapologetic self-celebration. There aren't many rules when it comes to applying them, but it's smart to use tweezers for perfect placement and to look for ones that already have adhesive on them. Davy points out that "rhinestones, studs, and pearls work the best when the surface they are being applied to is not oily or greasy," so make sure to steer clear of oil-heavy serums or moisturizers when you plan on incorporating gems into your look. A light dusting of setting powder can help mattify skin before application and will ensure long-lasting wear despite dance-induced sweating.
Overlined Lips
It's easier than ever to fake a plumper pout as long as you choose the right lip liner shade, says Taylor Davis. She recommends going one shade darker than your natural lip color. Instead of starting in the center, begin from the outer corners and draw inwards, staying slightly outside your lip line the entire time. This technique helps get you a full, rounded shape instead of a sharp pointy one. In order to make the over-exaggeration appear natural, use a sponge to soften any harsh lines and finish with a lipstick that's a shade lighter.
Make It Monochrome
"Monochrome makeup is effortless, easy to achieve, and you only need a few products to get the look," says Dali, which comes in handy if you're packing for a festival. With certain products, you can actually use them on your eyes, cheeks, and lips — it doesn't get much more streamlined than that. Look for sticks and creams that offer that versatility and that you can apply with your fingers or on the go. Neutral tones like warm terra-cottas and rich browns are solid go-tos, although you can use pretty much any color. And you can always dial up your look by adding a shimmer shadow on your eyes or a glitter gloss on your lips.
Layers Of Lashes
Up the ante on any festival look with some faux lashes. There are lots of different styles to choose from, with some sets offering built-in color or glitter for a more glam look. (These more over-the-top styles are great if you don't have a ton of time to get ready but still want to look done.) You can also customize your look by adding multiple lash strips — a trick that makeup artists have been using for years. For some extra drama, it's fun to play up the outer corners by placing an additional half band of lashes on top of the full strip lash. For a doe-eyed effect, add some falsies to your bottom lashes, too. Pro tip: After applying glue, let it sit for 15 to 30 seconds to get a little bit tacky before placing it on your lash line.