Hailey Bieber Just Cosigned Lemon Nails For Spring
The glazed donut manicure era is over.
@haileybieber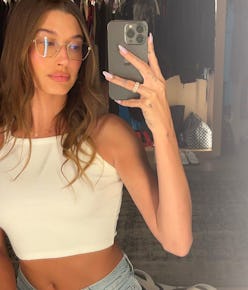 When it comes to beauty trends, there's no denying the appeal of Hailey Bieber. Whether it's a glowy makeup hack or a dramatic haircut, Bieber's beauty decisions always provide major beauty inspiration for her followers because they're bold yet somehow relatable. But none of her looks have quite the reach as her nail choices. After laying the groundwork for one of the most popular nail styles of 2022, Bieber is ditching her glazed donut nails and all adjacent looks for spring. Over the weekend, she tried a nail color she hasn't worn in ages: bright yellow. And it's only a matter of time before her bold, spring-friendly manicure goes viral.
On Saturday, Hailey and Justin Bieber's closest friends gathered to celebrate the singer's 29th birthday in their backyard. The psychedelic-themed party was a vibrant affair packed with celebrities and decorations including brightly colored balloons, rainbows, and oversized mushroom sculptures. And naturally, Hailey's neon yellow nails were right on theme.
Bieber fans got the first glimpse of her sunny manicure from a series of photos from the party Justin shared on this Instagram on Sunday. Several photos into the post, Hailey was seen fresh-faced and sporting her neon yellow nails with an oversized leather jacket and baggy jeans. For her 49.4 million Instagram followers, the brief glance at the model's new manicure was not enough. Thankfully, Bieber agreed and blessed the internet with close-up shots on her own Instagram showing off her complete beauty look.
In her post, her face looks naturally made up with a sun-kissed glow, a baby pink cat eye, soft blush, and baby pink bows tied into her blunt bob. In the last of the four photos, Bieber shows off her manicured almond nails sporting a glazed bright yellow color reminiscent of lemons.
The neon set was done by Hailey's longtime nail artist Zola Ganzorigt, who created the Rhode founder's glazed donut nails that all but took over Instagram and TikTok. While it's no secret that Hailey likes to play around with her nail looks, this latest manicure feels intentional as we're on the cusp of warmer weather. With spring just a few weeks away, it's time to trade in darker nail polish hues for ones that scream spring.
Pastel shades and cocktail-inspired shades are already trending for this spring, and with her latest manicure, it's clear that to see that it's just the beginning of the trend cycle for these color palettes. There's no telling where Bieber's nails might go next, but if you're looking for some inspiration and a new springtime shade, there's no better place to begin than with Hailey Bieber's lemon-inspired yellow nails.