The Dress-Over-Pants Outfit Ideas You Can Throw Together In 10 Minutes
Neil Mockford/Getty Images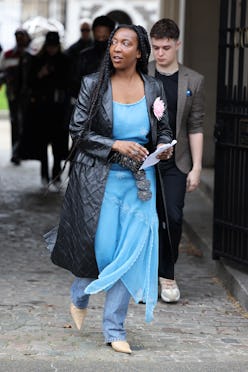 We may receive a portion of sales if you purchase a product through a link in this article.
There are certain outfit combinations that seem intuitive to wear, yet when you go to try them on, suddenly the look feels a lot more complicated. Consider a blazer dress with loafers — finding the right length is essential to avoid a wardrobe mishap — or the ever-confusing proposition of socks with heels. Dresses over pants outfits, too, fall in this straightforward-but-still-sometimes-confusing bucket: You know the two pieces work well together with the right styling, but getting the combination right requires experimentation and patience.
Thankfully, there's no shortage of formulas out there you can use to guide you through the process. Fashion tastemakers have found several different ways to style dresses over pants. One easy pairing anyone can pull off involves everyone's favorite basic: jeans. This bottom goes well with every type of silhouette, including voluminous shapes, micro minis, sheer styles, and silky slips. Once you feel comfortable with jeans — baby steps! — you can then graduate to working other reliable bottoms, like a bright trouser or printed pants, into the equation.
If you're having trouble envisioning all the aforementioned dress-over-pants scenarios, continue ahead for visuals to copy at home — and, of course, a few quick TZR-vetted styling tips and shopping options.
A Gauzy Dress + Jeans
A foolproof way to wear your new gauzy dress during the transitional season is by styling it with jeans and a trench coat or a lightweight knit. The bottoms will provide some warmth in the early hours when the temperatures hover around the 50s. Then, by the late afternoon when it hits the high 60s, you can shed your outerwear.
A Sheer Dress + Trousers
You love the sheer dress look, but you're not so keen on it revealing your undergarments. The fix here is to style a pair of sleek trousers underneath your see-through piece. Now that your lower half is fully covered, you can choose to show more skin up top. If you're still feeling uneasy, though, opt for a tank or bandeau top for extra coverage.
An Asymmetrical Dress + Jeans
Asymmetrical dresses are trending for summer. Since the hemline allows for a peek at what's underneath, show off your favorite straight leg jeans (or another bottom of your choice). If you wish, create added dimension to your look by layering your dress over a button-down shirt — then throw a light coat on top.
A Ruffled Mini + Pastel Pants
Maximalists will enjoy this outfit, as every detail, from the volume to the pastel colors to the bow mules, exudes playful, over-the-top vibes. To recreate the effect, you'll need to find a dress and pants in different (yet complementary) pastel hues. If pink and purple aren't to your taste, go for a yolky-yellow mini dress and lime green trousers.
A Shirt Dress + Jeans
A shirt dress and jeans are versatile wardrobe staples on their own, but when worn together, this combo is instantly a fashion week-ready look. The pairing is casual and cool, especially when styled with a chunky sandal.
A Slip + Sequin Pants
A silky slip is a no brainer for summer. But if you're looking for a fresh way to wear the basic until the weather heats up, team it with a pair of sequined pants. The juxtaposition between a smooth, satin-y dress and textured bottoms reads as both elegant and fun.
A Mini Dress + Cropped Trousers
Wearing pants with a short dress means you won't have to ever worry about a sudden gust of wind lifting up your hemline and exposing everything underneath. This look is also ideal should you want to rock a mini to work while abiding by your company's strict dress code.