Lizzo Is Rescuing French Manicures From Irrelevance With A Surprising Color Pairing
@lizzobeeating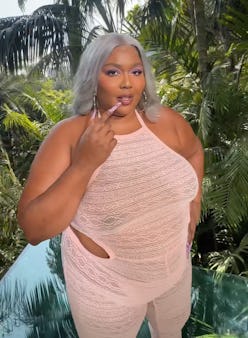 One of the best beauty developments of the past several years isn't a new product or buzzy ingredient, but rather a cultural shift. Seasonal manicure colors — think a bright, juicy orange shade for summer or a moody oxblood in colder weather — feel almost entirely irrelevant nowadays. Sure, most choose to take their color cues from nature, but there's no rigidity left, thanks in large part to creative celebrities. Lizzo's brown ombré French manicure, just revealed on Instagram, is actually the perfect case study, too. The long, square-tipped nails and gradient French style are ideally suited for her impossibly luxe Bahamas vacation, but the warm, nude-brown shade isn't what you'd typically expect for a tropical getaway. After Lizzo's millions of followers got a look at the manicure, though, consider the script officially flipped on brown nail polish for summer — it's no longer just a fall favorite.
The entire world seems to be living vicariously through Lizzo's vacation photos on Instagram, taking in her colorful bikinis, jet ski adventures, and yacht-top lounging. After a zillion-date world tour, it's safe to call this one a very well-deserved getaway. Captioning one set of photos simply "Frappuccino", she shows off the best look yet at her brown ombré nails.
The toasty shades pair beautifully with Lizzo's skin tone, which just puts her trendy nail look over the top. While the French manicure craze has cooled off a bit over the last year, gradient and ombré-effect versions are still going strong — pair that with the brown color, which was one of fall and winter's biggest nail trends, and you have a look that's at once popular and fresh-feeling. As a bonus, Lizzo's nude-tipped nails just help her fun, bright bathing suits and matching poolside accessories stand out, with no clashing shades to compete with. While it's still unclear exactly which nail artist created the look, Lizzo most often works with Eri Ishizu on her most creative manicures for work and play.
Onstage and in her day-to-day life, Lizzo seems to be loving the ombré French manicure trend in general. Before jetting off to the Bahamas, she wore almond-shaped nails customized with a hot-pink gradient, silver-striped set, and a snowy white version all in just a few months. As one of the preeminent beauty tastemakers of her generation, of course Lizzo can single-handidly resurrect the French manicure movement — even while on a five-star vacation.