5 Photo-Ready Looks For Your Purple Outfit Era
@nnennaechem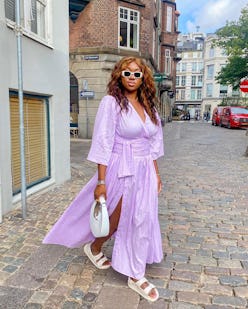 We may receive a portion of sales if you purchase a product through a link in this article.
Unlike flash-of-the-pan social media aesthetics, color trends often remain omnipresent for a good year or so. Let's recap: 2021 was all about sunny yellow, and hot pink took center stage in 2022. And now, it's safe to say 2023 is shaping up to be the year of purple. For evidence, look to the Spring/Summer 2023 runways, where designers like Ulla Johnson and Marni showcased eggplant and lilac pieces. Meanwhile, Taylor Swift's hit song "Lavender Haze" has further ignited people's desires to lean into the sought-after shade. Are you, too, interested in tapping into the trend? Start by dabbling in purple outfits. The punchy hue can be worn in a myriad of ways — and TZR is here to walk you through a few foolproof approaches to the striking look.
If you're new to wearing purple, consider easing into the look with the help of an accessory. For example, you can always punch up neutral pieces with a shoe or bag in the vibrant shade (Bottega Veneta's Jimbo Slingback Sandal or Brandon Blackwood's Mini Kendrick Trunk won't disappoint). For a bolder statement, flaunt the tone from head to toe with a matching suit or a dress and coordinating heels. Whichever route you choose, remember this: Fashion should be fun, so try not to overthink your outfit too much.
For further guidance on flaunting the hue, keep scrolling ahead, where TZR has compiled 5 outfit ideas to test-drive this summer.
Dressed To Thrill
A fancy event, such as a wedding or anniversary party, is the perfect excuse to dip your toes into the dreamy shade — so why not trade your go-to black dress for a purple number? If you're feeling especially adventurous, accessorize the gown with a heel in a slightly softer shade and a hot pink bag.
Keeping It Cool
While this layered look is best suited to fall, it's worth bookmarking for later as purple is poised to be a thing through (at least) the rest of the year. And if you simply can't wait an extra few months to wear it, good new: The combination works just as well when you swap out the turtleneck and leather bomber for a sleek violet tank.
In The Bag
If you're hesitant to wear the tone all over, start slow with a lavender handbag. Here, influencer Tamu McPherson's bright mini bag pops against her black and white number.
Make A Splash
Not to be the bearer of bad news, but swimsuit season will be over before you know it. So, don't just pull out any look this summer; stay on trend with a pastel bikini. The soft lavender two-piece from LSPACE below, for instance, is a subtle take on the color. For a cool poolside outfit, throw on a sarong.
Suit Yourself
Sure, a well-cut black or tan suit will pretty much always look amazing. But as influencer Grece Ghanem proves, so can a deep purple iteration — and it's definitely going to be more memorable. Let the lilac separates take centerstage by going for understated accessories like polished black pumps and and classic black shades.
Top It Off
A white button-down top is a closet essential, but should you want to shake things up a bit, reach for the silhouette in a cheery hue. Whether you couple the blouse with blue jeans or red tights à la Maria Bernad, it's sure to result in a bold fashion moment.