Angelina Jolie Just Adjusted Her Hair Color For The First Time In Years
Samir Hussein/WireImage/Getty Images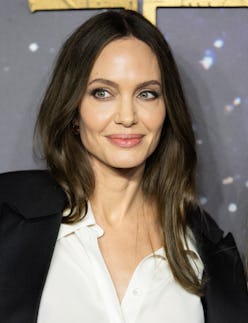 In a trend-obsessed world, Angelina Jolie dares to be among the few sticking to a tried and true look year over year. Sure, she dabbled in extreme lengths back in the '90s, loves a bold lipstick moment, and has tried a few different brunette undertones, but she largely stays true to French-girl blowouts and subtle yet defined makeup — and why wouldn't you, especially with multiple Most Beautiful superlatives to your name? Jolie's aversion to aesthetic change, though, just makes it all the more major when something does shift. Angelina Jolie's new blonde ombré hair color, spotted at a private White House event on April 26, is low-key, sure, but it's her single most dramatic beauty moment in years.
Jolie visited the White House with her eldest son, Maddox, on her arm, for a State Dinner honoring South Korean President Yoon Suk Yeol. Dressed in a breezy, spring-perfect cream suit, her fresh hair color looked like a burst of sunshine as she was photographed arriving through the Rose Garden. Jolie's gently-curled ends are now a delicate shade of golden blonde, but it's her darker roots that really makes this look stand out. It appears a "root shadow" strategy was involved in her transformation, a recent celebrity-favorite technique that pairs perfectly with her dark-to-light ombré blonde.
STEFANI REYNOLDS/AFP/Getty Images
STEFANI REYNOLDS/AFP/Getty Images
By leaving the roots of the hair deeper than the rest, the new color looks more natural and requires far fewer touch-ups — the root shadow helps even several inches of growth blend in. Notably, it also looks like many of the brightest pieces are concentrated around her face for an extra dose of sunny warmth just in time for summer. Compared to her usual glossy, dark brunette, even a subtle color tweak can feel like a major overhaul.
Jolie's rooted blonde is having a moment of its own this year, with celebrities like Kim Kardashian and Emma Roberts trying the technique out for themselves. With concepts like "quiet glamour" and makeup minimalism on everyone's lips, it's no surprise that a relaxed approach to blonde would follow. Trust Jolie, ever the progressive, to be ahead of the curve.