Model & Actor Camille Rowe Reveals The Truth Behind "Effortless" French Style
There's more to it than you think.
Myles Hendrik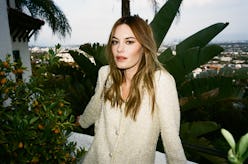 The elusive "effortlessness" of French style has long been aligned to cliché imagery of beautiful, baguette-toting women in berets, striped tees, and dainty ballet flats skipping around Paris' Eiffel Tower in the height of spring. However, in reality, the French muses that truly galvanized this image of natural beauty and flawless style have been much more varied: think Coco Chanel in her signature pearls and LBD, Francoise Hardy in her 1960s Paco Rabanne chainmail dresses and heavy curtain bangs, and Brigitte Bardot in her cigarette pants and soft cardigans. These are all memorable, all thoughtfully considered looks. "I don't think it's necessarily that effortless," says Parisian-born model and actor Camille Rowe to me in her Hollywood Hills home, when asked about the fascination surrounding her native country's approach to fashion. "I think French women, like any other woman, put time and thought into [their personal style]."
I consider this for a second. Perhaps, I find myself thinking, the idea of "effortlessness" is actually more confidence than anything else. The ability to embrace a look and move in it naturally and easily. Indeed, in this moment, Rowe herself emulates the epitome of gallic glamour, sitting crosslegged in a makeup chair in relaxed straight-leg denim and a well-worn black knit sweater. She is casually nursing a glass of Champagne as her makeup artist and hair stylist line her lips and fluff her hair into long easy waves, preparing her for Chanel's highly anticipated May 9 Cruise 2023/2024 show in LA, which she's attending as a guest.
Rowe is a charmer. She laughs loudly with her team around her, emitting the occasional snort when something is particularly funny, and gets up from her seat to greet newcomers at the door with warm hugs and cheek kisses. The scene is casual and otherwise unremarkable, but Rowe couldn't be more magnetic.
The model digs in deeper to her thoughts on the the world's ever-growing fascination surrounding her home country and its firm grasp on timeless style. "I think the French have an appreciation for fashion, maybe because it's part of the culture and France is [where fashion was born]," she says. "I think there's a real appreciation for investment pieces and things that you'll wear forever, more than fast fashion or trends. It's more classic in that way."
A living testament to this, Rowe claims her own style has been established since childhood, and one she hasn't deviated much from, despite the rapid-fire conveyor belt that is the trend cycle. "To be honest, I've dressed the same since I was 10," explains the 33-year-old, when the subject of Fashion TikTok comes up. "My dad loves vintage. We would always go vintage shopping. I've been wearing 501s since I was itty bitty, [as well as] big glasses. I don't know. I guess the 2000s are trendy right now. I have a lot of Tom Ford for Gucci that I've owned for a long time and I'm really loving bringing those back out."
Rowe describes her style as "comfortable" and heavily padded by a specific color. "I do think I wear black a little bit too much," she says thoughtfully with a soft chuckle. "But at the end of the day, I've always been a T-shirt and denim girl. So if I don't know [what to wear], a boot and jeans and a T-shirt, then a cashmere sweater [will work]."
That said, Rowe is open to dressing outside of the box on occasion, crediting the aforementioned Y2K resurgence to her recent inclination for showing a bit more skin. "I've never been someone who dresses sexy and I think whatever that trend is, it is making me maybe dress a tiny bit sexier than I usually do," she says. "I mean, I never put my stomach out, but maybe [I'll show] a tiny bit of tummy, which honestly, if you would've asked me four years ago, never in a million years [would I have been open to]. So maybe I am tipping my attention to trends, I don't know."
It seems a little experimentation suits her just fine. For this particular night, Rowe continued her streak of going off-script, opting for a yellow thigh-high Chanel blazer dress with a fanciful feather hem and hot pants hidden underneath. "It's very fun — it's a little bit more risky than what I usually go for," she says. "It feels very '60s to me, which I like for the setting of Los Angeles." The model explains the candy-colored look is a departure from her red carpet "safety blanket" of all-black suits and long-line slip dresses. But, you know, Chanel is always the exception.
"[It's] is the first thing you think about when you think about French couture — I think [Coco] is such an iconic designer," says Rowe of the legacy fashion house and its founder. "You see her and her style and it has resonated throughout the years, and you can't say that about many brands. I think there's always been a clear through-line."
This description could easily apply to Rowe as well. As the model swaps her denim uniform for the more coquettish ensemble (which she accessorized with sheer black tights and patent Mary Jane heels), a through-line of ease is visible. It could be her natural, glowy makeup, or her tousled, brushed-out waves. Or maybe it's simply that trusty je ne sais quoi.