Cardi B's Designer-Inspired Manicure Disguises The Best Hidden Detail
Money moves, money manis.
Shareif Ziyadat/Getty Images Entertainment/Getty Images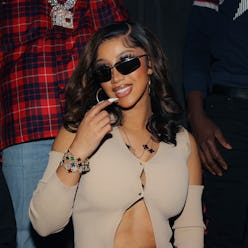 Think back to summer 2017 — no matter what personal memories or cultural events immediately come to mind, they're all probably soundtracked by Cardi B's "Bodak Yellow." The then-rising star's first single was a massive hit, igniting Cardi's music career with some clever bars in the chorus referencing her love for red-soled Louboutin shoes. But even now, as she gears up for her highly-anticipated third studio album, Cardi still loves to pay homage to her roots — and favorite designer footwear — in subtle, clever ways. Cardi B's red-bottom nails might look like a classic, understated white manicure at first, but there's so much more to this look than meets the eye. It's almost like Cardi's spirit manifested itself in a manicure — a very luxe, very fun, and extremely clever.
As usual, Cardi didn't dedicate a post or story to her new nails, which instead can be seen in quick glances on her assorted social media pages. She favors a low-key approach to showing off looks, which makes spotting new outfits, accessories, or hairstyles a glamorous game of I Spy. Cardi B's manicures are always extra-long, and her red-bottom nails are no exception, extending a few inches past her finger tips and expertly filed into a sharp, stiletto-shaped point. While any color would complement the blood-red nail undersides, Cardi opted for a crisp snowy white this time.
Based on a bit of Instagram sleuthing, it looks like Cardi's had her Louboutin nails for much of March already, though they're disguised as plain white nails on her grid. Really, the giveaway appears to be her pairing the red-bottom nails with an actual pair of lemon-yellow Louboutins — the perfect easter egg tying it all together.
Cardi's red-bottom nails aren't just a chic designer homage, though. "Flipside nails" happen to be one of the best ways to keep your manicure versatile while still having plenty of personality-emphasizing fun with it. Red is obviously one of the most popular choices for its instantly-recognizable style — other celebrities like Selena Gomez and Adele have already tried the look out — but any color or even a burst of shimmer or sparkle will give you the same effect. It's business on top and party down below — as Cardi would say, "I can get 'em both, I don't gotta choose."