These Natural Designs Are The Next Wave Of Stealth Wealth Manicures
Barely there but still bold.
@paintboxnails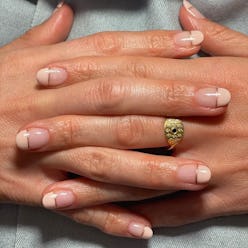 The internet is a gold mine for manicure inspiration. But with new trends going viral almost daily, searching for a unique set can be difficult. While many styles online are alluring (like the double ombré French), they tend to be elaborate and difficult to recreate at home. However, it can be nice to take a break from the over-the-top and celebrate simplicity. If you've found yourself recently drawn to quiet luxury manis and unfussy color palettes, then natural nail designs are the latest manicure for you. Like a nude polish, these looks feel organic and offer the benefit of customization.
You may think that a barely there base with a practical pattern is automatically basic. But with strategic placement and cool accent shades, they're anything but boring. Instead of focusing on vibrant hues and textural elements, the manicures rely on the natural shape and color of the nail. The plain backdrop is the perfect base to showcase delicate hand-painted works of art. From geometric shapes to elevated French tips, there's a vibe for every minimalist to love.
Even if you're a self-proclaimed maximalist, it will be hard to deny the appeal of these cool looks. That said, you may be ready to give your go-to style a break for a fresh change of pace. Ahead, the top 10 natural designs that are taking Instagram by storm. Find your favorite to save for your next nail appointment.
Ribbons & Bows
Recently, bows have made waves with creators as cool 3D nail art. Turns out, the cheeky accessory is also ideal for pared-down designs. For this clean French manicure, the artist pairs a darling little ribbon with a slightly sparkly tip. Simple and sleek, it's a great option for the holidays. It's festive but not too extreme.
Delicate Pearls
Pearls have also been pretty buzzy in the nail community. While the recent oyster trend uses iridescent polishes to deliver a unique look, you can achieve a similar vibe with actual gems. The trick is to place them delicately on a bare nail so they take center stage. The result is a sophisticated manicure that feels black-tie-ready. But if you want to dial up its charm, consider adding a thin white strip for a nice contrast.
Neon Negative Space
Not ready to trade in your favorite neon shades for a wintery hue? With this eclectic design, you don't have to. The bold squiggly lines add a bright, cheery pop of color, and thanks to the completely natural background, stand out even more. For the best results, select a range of polishes that will give a cool gradient appearance, and be sure to use a paintbrush for precise lines.
Metallic Webs
Spooky season might be over, but that doesn't mean you can't still enjoy this cute design. In it, intricate webs are crafted with an alluring silver polish and cover the tip of the nail like an artsy umbrella. You can use your natural color as the base, but to make the metallic hue pop, try opting for a pinky shade instead. Sure, it may take a steady hand, patience, and a bit of extra time, but the one-of-a-kind look is definitely worth the effort.
Geometric Shapes
Accent nails aren't just for breaking up a colorful solid set. In this minimal look, a geometric pattern proves to be just as eye-catching. The two shapes feature a basic nude polish and a brilliant blue for a contrasting effect. Even better? This contemporary style is easy to DIY, meaning you can have a salon-quality mani anytime.
Artist Palette
Multicolor manicures are currently sweeping the internet. This cool design takes the trend to a new level by blending in muted hues. It also uses the negative space concept, allowing the bare nail to peek through blots of polish. The final result is truly unique and will bring compliments wherever you go.
Airbrush Hearts
If you prefer long nails over short, this air-brushed look is perfect for you. Using a clear extension as the base, it features two delicate hearts stenciled on each finger. But there's more to the design than meets the eye. It also has rhinestones, jewelry, and a cheeky twinkle for an ultra-glamorous set that feels light and breezy.
Mini Dots
Polka dots are a fun way to embrace color with a barely there nail look. The best element of this design is how easy it is to create. You can also get creative with the colors, choosing from a rainbow of shades for a vibrant feel. However, if you tend to stick to neutral tones, try using various nude polishes. Regardless of where you land, this effortless manicure deserves a spot in your rotation.
Simple Swirls
Fine lines on bare nails are an attractive and easy design to replicate. The key to making them look sharp, is having a healthy base. Before you begin, trim the tips and groom your cuticles, ensuring they're nice and cleaned. Next, apply a few coats of clear to enhance the natural shine, then take a thin paintbrush and draw your pattern. To finish, add a sheer layer of topcoat for a glossy finish.
Black Flames
The juxtaposition of colors in this manicure will instantly draw you in. But the upside flame pattern will have you hooked. At the tip of the nail, the bold black streaks are the heart of this design that's hard to ignore. The look is striking on natural lengths, but it would be just as alluring on the popular almondetto or coffin shapes.