'Soft Girl' Winter Is Upon Us – This Cool Nail Color Is How Everyone's Embracing It
Sage green is entering the chat.
@amberjhnails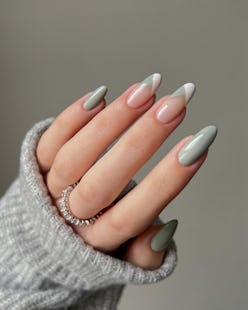 Given its growing popularity, you're probably seeing a lot of sage green nails floating around social media. But if the beauty community's recent interest in unique manicure colors is any indication, this one will be sticking around for a while. Variations of the hue have also been spotted on celebrities like Selena Gomez, Kendall Jenner, and Jodie Turner-Smith. And with the A-list's approval, it's no surprise that the sage green nail ideas continue to flood the internet.
Following seasonally-appropriate trends like coffee-inspired rich brown and brilliant orange, it's fitting that sage is having its moment during fall and heading into winter. The woody undertones give it an organic sentiment that feels fresh and lively. But much like the herb itself, it has layers that keep you guessing. From blue-gray to pastel, the shade offers a ton of room to experiment. So even if solid manicures aren't your vibe, you can still embrace the color with tonal designs and creative patterns.
Ready to explore and try a new manicure? Below, TZR gathered the top sage nail looks from Instagram to inspire your journey with the internet's new favorite color.
Moody & Subdued
The beauty of sage is its range of undertones capable of creating different color variations. This set features a polish that leans into the gray and beige shades associated with the herb leaves. Even better? The moody and slightly subdued appearance is especially timely for the season. But its murky vibe also coincides with winter's top trends — it's all about embracing a minimalist, muted palette.
Another great characteristic of sage? It plays well with neutral colors, especially a beige-toned nude. If you're looking for a design on the simpler side, give this contemporary pattern a try. Just a few zig-zags are all that's needed to create a fun manicure that's effortless and stylish.
Floral Airbrush Design
Airbrush designs are in their 2.0 era. Yes, the nostalgic stencil art from the early 2000s is making a major comeback. If you've found yourself reminiscing about those floral looks from back in the day, then you'll love this manicure. The square nail shape, soft sage green tips, and crisp white flowers have a sentimental feeling that's hard not to adore. But while the Y2K vibe is evident, the look still feels fresh and modern next to some of the year's top trends, like 3D nail art.
Marble
One of the benefits of extensions is that they provide ample space to showcase cool techniques. Here, a set of long, square nails is the perfect canvas for a marbled design. This look features the pattern alternating between the full length and of the nail and just the tip for a modern twist on a French manicure. While it can be created with a wide range of colors, a pale shade of sage gives a nice watercolor effect.
Short & Sweet
Classic colors like red or pink are always popular choices for short nails. Though you can never go wrong with any of those shades, a glossy soft sage lacquer is just as nice. The key to making this manicure look luxe and chic is selecting the right kind of polish. A traditional gel will deliver the candy-coated look, but for the best results, go for a soft-gel formula that's just as shiny but much easier to remove.
Mix & Match
Are you a fan of multicolor and minimalist manicures? If so, this look was dreamed up just for you. Instead of using several shades to create a unique look, it features two different polishes expertly applied to each nail. You can use complementing sage hues to give it a monochromatic vibe. But if you want to keep it interesting, try pairing a honey-toned sage with lilac for subtle contrast.
Simple Swirls
Tonal designs are always a fun way to embrace a new color. Not only are they trendy, but they are also a cinch to create, even if you're a nail art novice. This one uses a series of swirls and gold accents to make an eye-catching pattern. The trick is to pick two polishes that are just a few shades apart to create the contrast. If you have a steady hand, you can try drawing the spirals with the standard brush — but a thinner tool made for painting will be best for precision.
Velvet Finish
Velvet nails have an alluring effect that is unlike any other. Warm and fuzzy-looking, the faux finish always evokes a comforting feeling during the holidays. When paired with a hazy blue sage-colored polish, the effect is amplified. If you're on the hunt for a festive manicure that still feels bespoke, consider this option. Aside from the seasonal draw, it's also extremely easy to DIY so you can have salon-quality look in no time.
Crocodile French Tips
The mark of a good nail trend is that it can be combined with others to create all sorts of fun new looks. In this striking set, deep French tips and crocodile prints come together for a cool design. While you can use any color palette, pastel sage and and cream form a nice contrast against a nude base. Pro tip: remember, this version of the classic design relies on length — be sure to opt for long extensions for the best results.
Dark Sage
Deeper shades are quintessential during the colder months. However, if you find yourself longing for a more vibrant nail look, a dark sage polish is a solid option. Rich with earthy undertones like olive and moss, it's the perfect color to pop into your seasonal routine. Just be sure to add a glossy top coat to give it maximum shine.