13 Natural Braid Hairstyles That Are Stunning Year-Round
Because protecting your hair is always in fashion.
@lelliessantiago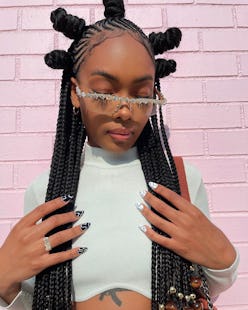 Although curls have a mind of their own at times, my 4A coils and spirals have blessed me with many versatile styles throughout the years. Every couple of weeks, I toggle between box braids, cornrows, Fulani braids, sew-in weaves, Senegalese twists, textured pixies, and TWA (teeny weeny afros). These protective styles — techniques that protect natural hair from manipulation and pulling — not only help my hair grow, but also allow me and other naturals the ability to rock as many styles, colors, textures, and lengths as desired.
Many curly-haired gals sport protective styles during the summer when humidity tends to get the best of natural textures. By securing the ends and edges of the hair, environmental elements don't have the chance to negatively impact curl patterns and definition. The other benefit to braided hairstyles, a highly popular protective style among naturals, is that they can be worn all year-long – not just in the summertime. And with the plethora of options being funneled through celebrity hairstylists, natural hair bloggers and vloggers, and influencers, there are plenty of braid ideas for to test out each month if you wanted to. Ahead, 13 natural braided hairstyles that will look stunning throughout 2023.
Knotless Box Braids
The biggest difference between box braids and knotless box braids is the braider will start with natural hair instead of feeding in extensions at the root (creating a knot) to avoid tension on the scalp. Knotless braids are great for naturals who are tender headed as there is less chance of breakage and pain in installation. The knot-free style also creates a seamless look that lies flat and won't be too heavy on the scalp. As a year-round style, you can place knotless braids in a high bun, low ponytail, space buns, and a plethora of other styles.
Bantu Knots
Bantu knots can be done with loose hair, but the style takes on an edgy approach when it's done with braids. Simply section out neat braided parts in any size you want, then twist the hair to create the knot. Finish off by laying your edges flat. To refresh the tried-and-true classic, feel free to add in embellished beads or hair color. Unlike the other braided hairstyles, this one lasts for a fraction of the time (two to three weeks) as any longer could cause tension and irritation to the scalp.
Triangle Braids
Triangle braids, braids with triangle parts, are the playful update to box braids. The style still incorporates free flowing braids but with an edgy and intricate pattern. Suitable for all textures, you can even part the hair to the side or center with triangle braids. With proper care, this style lasts six to eight weeks.
Jumbo Box Braids
Jumbo box braids, 10 to 12 large box braids, are easy to maintain, versatile, and never boring. And if you're short on time, they are a great go-to as the thickness in size cuts down on installation time while keeping maintenance to a minimum.
Flat Twists
Flat twists are done with two-strands and can take any shape you desire. The elegant style lies flat on your head, appearing neat any way you style it. Have them go to the side, straight back, in a bun, or a high ponytail.
Space Buns
Space buns (two '90s-inspired buns) need no introduction. However, braided space buns are the update on the classic style and one of the coolest ways to style box braids. Remember to protect your hair at night as you would any style. Place on a bonnet or silk scarf to keep the braids from being exposed and open to frizz.
Fulani Braids
Fulani braids have a cornrow base at the scalp and let out the further you go down the head. Choose from overlapping braids, geometric shapes, or classic parts and define yours with playful baby hair patterns. And because the hair is flat to the scalp, they work great with summer hats or winter beanies.
Coi Leray Braids
Coi Leray braids are the new buzzy addition to natural braided hairstyle options. Made popular by the New Jersey-based rapper of the same name, Coi Leray braids are lightweight, easy-to-install, and feature neat parts and curled ends. The difference between this style and other seamless braids is the over-exaggerated edges that add extra spice.
Faux Locs
Worn by natural celebrities like Gabrielle Union, Zendaya, Tracee Ellis Ross, and Ciara, faux locs are the ultimate cool girl hairstyle. Lasting up to three months, these braids seal the hair away from manipulation and moisture.
Passion Twists
A hybrid between goddess locs and Senegalese twists, passion twists use the two-strand twist method with curly braiding hair. Feel free to experiment with different colors, lengths, and thicknesses to make this style unique to you.
Cornrows
Beloved and classic, cornrows, also known as straight backs, feature hair that's been braided down the back of the head and twisted outwards so braids appear raised. You can braid the hair in a straight, wavy, or intricate pattern, and play with the size as well. Cornrows are also the foundation of many other styles: Ghana braids, knotless braids, and crochet braids — so they're a great starter style for those who like to braid at home.
Goddess Locs
For those that lean into the bohemian aesthetic, goddess locs are the natural braid hairstyle for you. Customization of these perfectly undone, thick braids can be done with shells, beads, and cuffs.
Senegalese Twists
Unlike box braids that take the three-strand braid technique, Senegalese twists only use two strands. The result: a twisted braid that resembles a spiraling rope. You can create this look at home or at your favorite salon by attaching synthetic or human hair to the root of your natural hair and continuously wrapping it down each hair shaft.