22 Protective Styles To Help Your Natural Hair Grow Longer & Stronger
Instagram/JustineSkye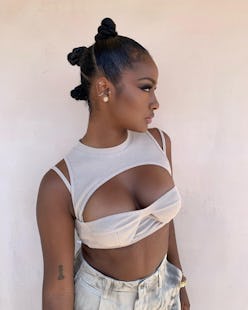 Protective styles are more than just a means to shield hair and minimize maintenance time. For Black women, they're a cultural staple. From box braids to twists, cornrows and faux locs, the creativity of Black women is repeatedly reflected in the many ways we've learned to style our hair all while showing appreciation for centuries of beauty. That's why protective hairstyles aren't just relegated to a season. They're a year-round staple that everyday people and celebrities alike have and will continue to embrace.
"Protective styles are ever changing and evolving, but at their core they are deeply rooted in Black culture," Naeemah Lafond, celebrity and editorial hairstylist tells The Zoe Report. "The importance and significance of protective styles can be dated far back to our ancestors. The braids, twists, weaves, and wigs we wear hold as much cultural, social, and personal significance now as they did then. It's more than a hair style, it's a statement, one that says that we are free to express ourselves, embrace our culture, and wear our crowns as we see fit."
But with so many options, and so much inspo out there, it can be hard to keep up. Let alone, pick the style that you think fits you best. To help that, we've plucked some of our favorite protective styles, as seen on our favorite celebrities for you to choose from, no matter what time of year.
This article was originally published on