Angelina Jolie's Bright Blonde Highlights Are Such A California Girl Classic
Ever think you'd see the day?
Vittorio Zunino Celotto/Getty Images Entertainment/Getty Images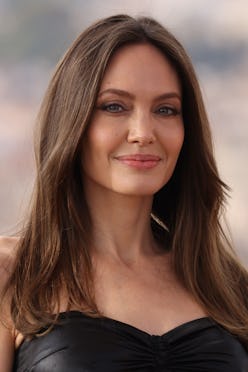 Take it from Angelina Jolie herself — sometimes, when making a major aesthetic change, slowly ramping up to your ideal final form can make the transition feel a lot less drastic. That goes for an extreme cut, a wardrobe overhaul, and of course, a significant hair color change. Earlier this spring, Jolie was spotted with golden ombré highlights woven into her usually-dark waves. But just in time for the launch of her latest project, she's finally gone all-in on the sunny shade. Angelina Jolie's blonde hair is by far the lightest its been since the '90s, complete with bright, near-platinum money pieces around her face, all accented by some chic layering. The effect is downright transformative, ushering in an entirely new era for the actor-humanitarian.
The first true glimpse at Jolie's new hair color came via fashion brand Chloé, with which she's partnered with for a curated capsule collection through her Atelier Jolie brand. In a promotional shot showing her work process, Jolie is seen with her hair blown out and parted off-center, falling just past her shoulder in blonde layers. While the shade is much lighter than the one she debuted back in March, she's largely stuck to the gradient effect offered by ombré color techniques. The darkest part of her hair is toward the top, for a more natural-looking fade through the ends.
The surprising change arrived to the delight of fans, who were quick to make comparisons between this soft, sunny shade and Jolie's shorter, darker, and much edgier take on blonde hair from back in 1999. Though her throwback look is a bit brassier (it was the '90s, it happens), it shares the same gold undertone as her current color.
If it feels like everyone is getting in on a beachy blonde shade for the summer, it's because they kind of are. To kick off her Renaissance World Tour, Beyoncé tapped Rita Hazan for a light-as-air "sunwashed blonde" hair color, Serena Williams pivoted her red-toned curls toward a distinct shade of gold right as the weather warmed, and Bella Hadid stayed true to "Aspen blonde" — as her sister sticks to a stark platinum herself. Blonde hair colors always see an uptick in popularity in warmer weather, but this feels like something deeper. Calling it now: expect to see plenty of other unexpected celebrities turning toward the light this year.