Soft Loc Hairstyles Are Sweeping The Internet – Here's 10 Looks To Try
Loads of inspiration ahead.
@rahelbrhane_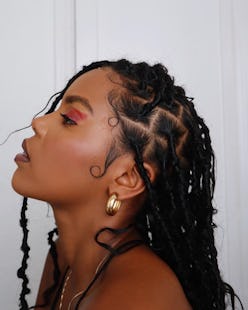 Natural hair is one of the most versatile textures that lends itself to a wide range of styles. From tight curls and coils to straight blowouts elongated with extensions, the rolodex of looks for naturals is virtually endless. But along with accommodating a range of options, it often needs to be tucked away into protective styles to maintain health amid environmental stressors like heat and humidity. During these times, when the weather and use of hot tools take a toll on strands, most naturals turn to styles like braids. But this summer, soft locs — a faux dreadlock style — are quickly becoming one of the most favorable protective styles.
In line with the 'soft girl' aesthetic, these locs have a subdued feminine feel to them that the internet has eagerly embraced. This means you've probably seen them pop up on your social feeds once (or twice). The look, which is characterized by individually crocheted faux locs, is more flexible than traditional dreadlocks or braids, and can be installed and styled with much more ease.
As the summer season begins and you're looking for a new look to try, why not consider one of the many styles soft locs can offer? To help you sift through the options, we've gathered 10 looks to take to your next appointment.
High Ponytail & Side Bang
Soft locs are the perfect protective style for recreating this popular '90s look, thanks to their subtle and natural texture. To get the full effect of a slicked-down bang, smooth the individual locs to one side and secure them tightly in the back of the head with a rubber band.
Medium-Length Butterfly Locs
Though many protective styles, such as braids and cornrows, are adored for their waist-skimming looks come summer, some styles, such as butterfly locs, are best suited for medium lengths. With a texture more reminiscent of natural curls, butterfly locs give the appearance of volume, which makes them ideal for shoulder-grazing styles like this lob.
Half-Up, Half-Down
Simplicity is the reason this style continues to be a favorite regardless of length. Whether you're in a hurry or are aiming for a casual look, you can never go wrong with a half-up and half-down hairstyle.
Ombré
Take a page from Ciara's book and get creative with colorful locs this season. Even if you're not ready for a full-on pastel look, like the singer recently sported, an ombré style is an easy way to give you locs a beachy feel. For a look that is sun-kissed, try using varying shades of hair that gradually get lighter towards the ends of the locs.
Boho Soft Locs
This summer the boho trend is extending beyond knotless braids to other styles for a look that is lived-in and ideal for breezy days. Similar to the braided versions, boho locs feature tiny tendrils of curls flowing from the individual locs to create a unique style.
Half Bun Hairstyle
Unlike braids, which can have a rigid appearance, soft locs are meant to be fluid and can be placed into top bun styles. Take this casual half-up and half-down style, for example.
Colorful Head Wrap
Despite the longevity of soft locs, there are some days when your edges may need a little extra TLC. But that doesn't mean your look has to suffer. Instead of reaching for your go-to hat, try styling your locs with a colorful head wrap to add a pop of color to your look.
Soft Waves
If you like the bohemian look, but need a style that's a tad more low-maintenance than having free-flowing tendrils, try opting for a wavy soft loc style. Not only do the loose curls add volume, but they can be quickly swept to the side for an effortless look.
Extra Long Lengths
For statement-making length, soft locs are an ideal protective style because they place less tension at the root of the hair and are much lighter than braids. They also take much less time to put in and take out so you don't have to feel guilty about the shorter wear time if you're just planning to have them for a special vacation.
Y2K Ponytail
Keep things simple with an elevated ponytail like this Y2K inspired one with face-framing tendrils. For a style like this, you'll want to ensure that the hair around the crown stays fresh. Wearing a soft silk scarf while sleeping will be key.