Beyoncé's Custom 'Sunwash Highlights' Were Made To Shine On The Renaissance Tour
Her legendary colorist tells all.
Kevin Mazur/Getty Images Entertainment/Getty Images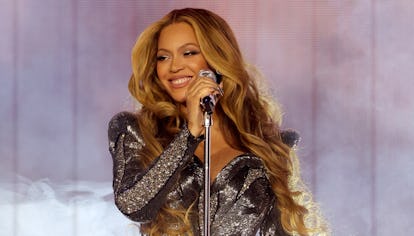 We may receive a portion of sales if you purchase a product through a link in this article.
Imagine being so influential and respected in your industry that you can casually toss off lines like "Beyoncé trusts my vision." That's a standard weekday for celebrity colorist Rita Hazan, who counts more than a few A-listers among her star-studded client roster. Over the years, Hazan's developed several custom hair colors for Queen Bey, but her latest creation is, by most metrics, the biggest yet. Beyoncé's "sunwashed blonde" highlights are part of a bespoke technique by Hazan made especially for the Renaissance World Tour, a hand-painted masterpiece that takes into account every possible aspect for the three-hour concert.
Hazan is part of an ultra-elite group privy to Beyoncé's plans long before they're made public, be it live performances, album drops, or, y'know, global tours. She tells TZR that the idea for the star's sunwashed blonde hair color was a collaborative effort. "After speaking with Beyoncé and then being on-site to see the lighting, wardrobe, looks, and set, I knew that light blonde hair would pop," Hazan explains. "I wanted her hair to look summery, as if she's been on the beach all summer, and the sun naturally bleached it out."
Designing a custom-blended hair color for such a large-scale event required plenty of analysis on every aspect of the show, all of which Hazan took into account. She explains that a brilliant hair color plays a not-insignificant role in the production, particularly when paired with dynamic wardrobes, specialized lighting, and intensely produced stage settings. "Especially for Beyoncé, who is known for her hair flip, it's much more dramatic with the multidimensional color that translates to fans and photos."
Because Hazan and Beyoncé have such a longstanding creative relationship, collaboration comes easily for the pair. Hazan explains that because Bey trusts the vision and process, they simply chat the look through, then bring it to life. "Each color I do for Beyonce depends on her shows, events or lifestyle. I originally took her blonde years ago, and since then every time she is in my chair we create iconic hair looks." You probably remember Hazan's headline-making "shadow highlights" technique featured in Beyoncé's latest Oscar performance, for example.
To get the look yourself, Hazan recommends asking your colorist for a lighter base color not too dissimilar from your current base color, with layered blonde highlights overtop where the sun would naturally hit. "Depending on the hair cut and texture, every client will have to be customized," she adds, so make sure to discuss all the ins-and-outs with your hair professional, ideally with some visual aids. "Outside of the salon, use the Rita Hazan Breaking Brass Gloss to rid hair of brassiness and any yellow tones in combination with the Rita Hazan Sun-Kissed Gloss so it doesn't look dull and has a bright golden tone," Hazan says, emphasizing how important a gloss is for that popstar-worthy shine post-color. Anything Beyoncé has done is surely worth getting too.
Shop Hazan's essential product for maintaining sunwashed blonde below.