How To Prepare For Your First Hair-Dyeing Experience
Read this before booking your next salon appointment.
@thelovelyhairclass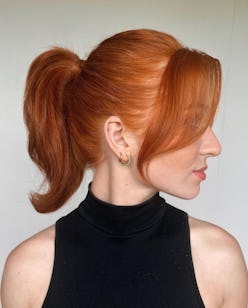 Heading to the salon for a head-turning fresh hair color is exciting, except when you're dyeing your hair for the first time. If you're new to color, you might feel anxious rather than elated. Damage from the chemical processing, the ease of upkeep, and how your hair care routine might change are a few concerns likely swirling through your mind leading up to your appointment. But if you're determined to take your strands to a new hue, it's good to be prepared by understanding what will happen during the service and what to expect afterwards. "The first thing I tell my clients, is that hair coloring is a process and though we're aiming for a particular look, preserving the health of your hair is just as important," says Adriana Tapia, colorist at Pierre Michel Salon in New York.
Being realistic about the results, timing, and maintenance is just one of the few things that can help soften your concern before making a color change, whether it's adding subtle highlights to your existing base or going platinum blonde. For this reason, TZR reached out to three top colorists for their knowledge on everything from prepping your hair before dyeing it to color maintenance and upkeep after your appointment. Read on for their advice so you can feel at ease before getting into the salon chair.
How To Prep Your Hair Before Dyeing It
In most cases, walking into the salon with weeks-old hair is perfectly normal as you're likely starting your service with a wash before cutting it or blowing it out. However, when it comes to your first color treatment, arriving with a clean head of hair is inherently better. "I always ask my clients to use a clarifying shampoo before coming in for any kind of color treatment," says celebrity colorist Matt Rez. "Not only does freshly-washed hair make it easier for the colors and lighteners to penetrate into the follicles, it can also help decrease the time and amount of heat that is required for processing, which will lessen overall damage."
Tapia also suggests taking advantage of moisturizing treatments leading up to your appointment. "Hair masks and leave-in deep conditioners are good to do at home a few days before dyeing because they add much-needed moisture to the hair and prepare it for any potential side effects that may incur afterward," she says.
What Happens To Your Hair After Dyeing It
So what exactly should you expect to happen to your hair after coloring it? According to Rez, dryness is the number one concern that comes with dyeing your hair. "For virgin hair, we're removing pigment and for that to happen, the cuticles need to be lifted in order for the color to be deposited." He explains that the process itself uses alkaline agents that put the hair at risk for dryness post-dying.
Texture is another area that can be affected by color, and where some people may see little or no change, others can have a drastic shift. But if your concern for side effects is heightened, it doesn't mean you have to rule out dyeing your hair completely. "Depending on the color you're wanting to achieve a color gloss treatment can be a good alternative — especially when going darker — that will keep hair moisturized after the process," says Tapia.
How To Maintain Your Hair Color Post-Salon
While it's true that there is a wide variety of color options, it's a good idea to know what kind of upkeep is required for lasting results. "Balayage is popular for its natural-looking highlights, but it also has the least amount of maintenance after dying because it's meant to blend in seamlessly and doesn't have to grow out from the roots," says Tapia. Likewise, she also notes that bronde shades — a sun-kissed color that adds some brightness mostly towards the end of the hair, and other highlighting techniques will be easiest to keep fresh.
It goes without saying that any process which involves lifting your original color will require more frequent maintenance. "Bleaching and tones typically need more salon upkeep," says Rez. For optimal results, he recommends maintaining regular visits with your stylist to keep the color consistent and your hair healthy.
As for going darker, the shade to be the most cognizant of according to Tapia is red. The color, which has been gaining in popularity as of late with everyone from Meghan Markle to Megan Fox making the change, is known to fade after the first couple of washes making its vibrancy harder to preserve. "If you're not a natural redhead, you'll need to plan frequent visits to the salon to keep the color fresh," she says.
How To Make Your Hair Care Routine Color-Safe
At home, all three stylists agree that incorporating moisture-rich products into your usual hair care routine will be paramount for your hair's health in the long run. Remember: even if you're not experiencing excessive dryness, your follicles are roughened a bit from the coloring process. With that in mind, Tapia recommends adding a hydrating conditioner and hair mask such as those from Davines which are safe for color-treated hair. Aside from these types of products, it's also worth investing in a detoxifying shampoo that will protect your hair against harmful environmental stressors and even damaging ions in water. In that vein, colorist and L'Oréal professional ambassador, Adina Pignatare, recommends adding a detoxifying shampoo such as L'Oréal Professionnel's Metal Detox Shampoo, to not only prolong your color, but also add shine so it looks fresh.