So Much Detail Went Into Halle Bailey's Hair In The Little Mermaid & It's All Real-World Applicable
An inside look at the new movie.
@disneylittlemermaid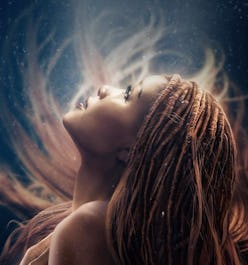 From the moment the news broke that the latest take on Ariel would feature the leading lady's own long, flowing locs, the role took on even more meaning. It became a large-scale, marquee moment of representation. With a movie as visually rich and complex as Disney's newest release, the visual spectacle can't help but pique your curiosity about how it all came to life — and who did it. In The Little Mermaid, Halle Bailey's hair is more than just incidental, secondary to a larger story. The brilliant red color ties her to the original portrayal while her ethereal locs, already widely recreated on both toy dolls and the little girls holding them, sets Bailey's Ariel apart as an entirely new, long-awaited refresh.
With her stuffed resume and sunny energy, it made sense that Camille Friend would be asked to take on the job of hairstylist and designer for the titular mermaid. Twenty years of working on the highest-profile films means you've certainly seen Friend's work on the big screen — she even has an Oscar nod for Black Panther: Wakanda Forever. Friend tells TZR that first order of business on the project were conversations with Bailey and her family to get a sense of who she was and what she wanted this new portrayal to feel like.
Bailey wanted to keep her on-screen look true-to-life and natural, which Friend relayed to the filmmakers who in turn shared their parameters about what would be required in terms of filming logistics, particularly movement and placement in underwater scenes. "Then, I start with the sketch artists," Friend explains. "We start sketching and talking, looking at colors. Anytime I design something for any actor or a character, I always look at a couple things: what's your facial shape, what's your eye color, what's your skin color, and what your skin undertones are. Because when designing, you want to design the best look for your client."
Perfecting That Ariel Red
With a visual plan in place, Friend and the crew then had to devise the best way to actually capture the footage. She first started experimenting with wigs, having a few made to see how they worked on-set. Bailey's hair falls all the way to her waist, Friend says, so the challenge was wrapping her locs and getting the wig to lay in a way that looked natural — at one point, director Rob Marshall told her the wig's bulk would require digitally-altering Bailey's head size, an extremely expensive process.
Soon, Friend figured out a solution: wrapping Bailey's locs in long extensions to protect them and weaving in the vibrant Ariel-red color so crucial to the movie. "The color is three shades of beautiful red," Friend says, 30-inch custom-colored perm hair created by Helene at Extensions Plus in Chatsworth, CA. She's one of my artisans, my secret weapons. "It's the highest grade of hair and it's all custom."
Friend spent time with Bailey analyzing her skin tone against hair samples in different shades of red. They landed on a flattering, harmonious golden-toned orange-red, but wove in different hues for dimension. "In the base color, we have a darker red, a medium red, and then a lighter red to give that whole color and to give it variation and to make to make it look natural."
Taking Her Hair Under The Sea
The first time Friend and the Little Mermaid crew wrapped Bailey's hair in the red extensions, she says it took around two full days. It's a big install initially, Friend explains, but their team of three got it streamlined when it was time for touchups every six to eight weeks. On-set hairstylist Tiffany Williams, based in London, oversaw much of the filming process, including submerged scenes shot in water tanks. "We would sew the locs in different places," Friend tells TZR, the crew's trick for keeping the hair out of Bailey's face for the cameras. "So you strategically sew those locs and pieces for when she's floating in the water — it all just looks really, really beautiful and in the right places."
Of course, Friend points out that keeping Bailey's natural hair protected from the harsh water was top of mind. The wrapped extensions acted as something of a shield, touched up by Friend and the crew as needed. "Once we took it all out, you couldn't use that hair again, so we have to start all over with a new batch of hair. So you know, the hair budget. I love Disney — their budget was up there, but it was all worth it."
The Little Mermaid Legacy
Casting Bailey as Ariel and spotlighting her natural locs already have positioned the movie as a representation touchstone for so many, an impact Friend says didn't fully hit her until she saw the nearly-finished product. "I'm a hair designer, a hairstylist, a filmmaker. I'm just working through the process to get us there." But, she says, "the day that I knew that it was different is when the trailer came out." Flooded with calls and DMs from family, friends, fans of the film, it all came together. "I just sat in bed and cried because I get to be in this business and do wonderful films. I get to work with actors and I get to work with different cultures, and I get to make sure that the hair looks appropriate and that we're respecting people's cultures and their heritage. That's really important to me."