10 Conditioners To Use When Your Hair Needs Some Extra TLC
Found in the showers of TZR editors.
@oribe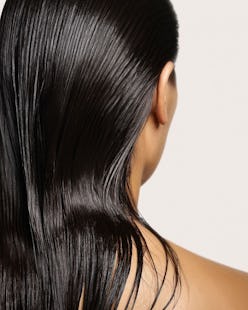 We may receive a portion of sales if you purchase a product through a link in this article.
Join TZR editors for Main Squeeze, the series dedicated to sharing beloved beauty products — be they bold, effective, or simply fun — that make our week just a little bit better. Ahead, Team TZR spotlights their favorite conditioners the moment.
There is something cathartic and relaxing about washing your own hair. Not that a trip to the salon isn't a luxury, but the idea of getting your hands at the roots of your hair, lathering up your shampoo, and massaging it through your scalp can be very gratifying. However, regardless of your hair type and no matter what your standard wash day routine looks like, conditioning is one of the most important steps for maintaining healthy hair. For fine strands, a good conditioner can add volume and prepare it for the use of hot tools. While rich formulas are essential to keeping thick and coarse textures well moisturized. As editors, there's no shortage of hair products floating around our showers and bathroom cabinets. But despite all of the options, finding the best conditioner for one's hair type and concerns remains challenging.
To be completely transparent, it takes a lot of trial and error to land on your holy grail conditioner –especially if you're dealing with a texture that change with the weather, colored or chemically-treated hair, or even a longer length. If this sounds relatable, let's take some of the stress out of building your wash day product lineup. Ahead, TZR editors' 10 favorite conditioners for strong, healthy hair.
"My hair is thick, slightly coarse, and gets subjected to color treatments every two to three months. Factor in the hot tools I routinely use, and my strands don't stand a chance against dryness, frizz, and fading. So while a hydrating, color-safe shampoo is vital in my hair care routine, I need a complimentary supercharged conditioner to keep my hair in tip-top shape without needing to hit pause on using my blow dryer and flat iron. After a ton of trial and error, Pureology's Hydrate Conditioner has earned a permanent place in my shower. The rich, deeply nourishing formula is packed with jojoba, green tea, and sage to hydrate and maintain color. My hair always feels incredibly soft and looks shiny and smooth whenever I use it – I've even had people ask if I just got my hair done." — Erin Lukas, deputy beauty editor, TZR
"I have thick, coarse, wavy hair that I only wash once a week. However, as a hot yoga enthusiast, I come home with wet, sweaty hair at least a few times a week. So, I'll usually rinse my hair and apply conditioner to the ends after class to keep my hair from getting dry and breaking. This formula is super hydrating, but doesn't weigh my hair down and keeps my strands feeling fresh in-between wash days." — Angela Melero, executive editor
"It's rare that I love a product enough to cart around its mini-sized counterpart on trips and vacations, but this Oribe conditioner is too good to leave behind. I have some frustrating bag strap-induced breakage through my drier, delicate ends that I'm always trying to undo. Not only does this hydrate and smooth the look of existing damage, but it helps improve hair elasticity to keep it from getting worse – not that I haven't learned my lesson re: tote bags, trust me."— Amanda Ross, beauty editor, TZR
"Every morning before styling my hair, the first thing I do is check the weather and humidity levels for the day. I can't control the moisture in the air, but since it greatly affects how my hair will react, I begin my conditioning routine with this unique formula. Not only does it hydrate my strands, but it locks in moisture ensuring that as little as possible escapes. It's also extremely effective at keeping frizz at bay while I'm deep conditioning in a steamy shower. For those reasons, this drugstore find continues to be a favorite in my wash-day lineup." — Jessica Fields, beauty writer, TZR
"I don't use conditioners normally because they tend to make my hair oily, but every once in awhile when my hair is feeling extra dry, I will run this product through my strands to rehydrate them. It is the only conditioner I own." — Marina Liao, senior fashion news editor, TZR
"Nothing elevates a shower in my tiny NYC apartment like busting out this giant bottle of thick, creamy, and heavenly-scented Sangra de Fruta conditioner (which somehow in economy size feels even more luxe?). I warn that it is not inexpensive, but you only need a few pumps for smooth, supple hair left with the faint smell of roses — and really, what is life without little indulgences?" — Alison Syrett, deputy fashion editor, TZR
"This is my everyday conditioner, one I use to replenish my long, medium course hair in between deep conditioning hair masks. I like that it comes in a lightweight, creamy texture and the way it leaves my hair feeling soft and rejuvenated after use. I don't have to ever worry about it being too heavy where the oils creep up to my roots in just a few hours, or too light where I can't brush my hair through easily. It hits the right balance of what I look for to use on the daily, and an added plus is the easy pump dispenser." — Kathy Lee, editor-in-chief, TZR
"I have an oil-prone scalp but dry, often tangly ends from years of color treatment. By concentrating this Kérastase conditioner just on the hair below my ears, I can target the areas that really need it with the formula's ceramides and keratin complex without weighing down my natural wave pattern or making my roots look greasy. Plus, the design and orientation of the bottle makes it mercifully easy to manage in the shower." – Ross
"I first tried OUAI's Thick Hair Conditioner a few years ago and I have been using it religiously ever since. The rich, moisturizing formula works wonders on my super thick hair, especially when it's frizzy (which, lately, is most of the time). Plus, the lovely rose scent never gets old." — Kelsey Stewart, associate fashion editor, TZR
"I frequently layer my conditioners, to ensure my hair is thoroughly hydrated after rinsing out shampoo. This one is new to my lineup, but I've been using it constantly for the smell. It's relaxing and fresh – the perfect scent for a botanical lover like me." – Fields