Mini Twists Are The Chicest Protective Style Taking Over The Internet
@the.natural.breona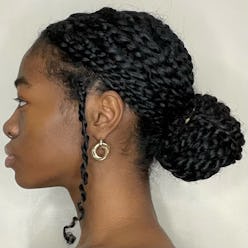 When it comes to protective styles, there are a few — such as braids, cornrows, and weaves — that remain a top choice for natural textures. Yet, while these methods effectively shield the hair from harsh heat tools and environmental stressors, they can also inflict damage by applying tightness and strain to delicate curls around the hairline with long-term wear. With the definition of healthy hair evolving well beyond relaxers and other chemical straightening techniques like keratin, styles like mini twists are becoming just as mainstream and desirable. You've likely seen images or even full tutorials on TikTok where the look is currently trending. But aside from its viral fame, mini twists offer a number of benefits for natural hair.
"For starters, they're much easier and less time-consuming to take down than knotless braids," says Houston-based hairstylist Tiara Nash. In fact, as a stylist who specializes in heat-free protective looks, she's transitioned many of her braid clients to twists over the years. While the look is not technically new, you may recall the passion twists boom last year, its recent uptick on social media has cemented its place in the established group of go-to hairstyles. Ahead TZR taps two stylists for everything to know about TikTok's current favorite protective style, from benefits to maintenance and even how to prep your hair before twisting it.
The Benefits of Mini Twists
Much like boho braids, twists have more of a natural finish and provide flexibility for styling ease. One of the great things about segmented hairstyles is being able to wear a range of looks, from ponytails to half-up styles. But braids, even the knotless ones, can often be too heavy which causes tension when they are pulled back. "When done properly, and by this I mean starting with a twist as opposed to a braid, mini twists put little strain on the hair at its root," says Nash.
Contrary to common belief, they can also have the same longevity as other popular protective styles. Lacy Redway, hair artist and stylist for SheaMoisture, tells TZR that two-strand twists have been a go-to protective style for naturals for a long time thanks to the versatility they provide. "It's also an easy style to recreate on your own," she says. With that in mind, it's easy to see why mini twists have become the it-style across social media.
How Should You Prep Your Hair For Mini Twists?
As is the case with any type of protective style, prepping your strands properly before twisting can have a direct impact on the amount of wear time you'll get. Nash recommends beginning with hair that has been washed and detangled but not blown out. "You want the hair texture to be as natural as possible to ensure that the twists stay together organically," she says. Similarly, for extensions, she suggests using textured braiding hair such as boho or go-go curl.
Whether you're headed to a salon to have them professionally done or plan to do them yourself, you'll want to make sure that your hair and scalp are well moisturized after washing. "SheaMoisture's Aloe Butter Scalp Moisture Cream is great because it hydrates the scalp and delivers intense moisture," says Redway.
How To Maintain Mini Twists At Home
Since twists are a tad more pliable than braids, at-home upkeep is crucial for longevity. For consistent protective style wearers, edges and new growth remain the biggest hurdle to keeping the look fresh. Between humid weather and workouts, maintaining smooth edges can be a trial. Both Nash and Redway agree that using a water-based edge control is key for sprucing up twists without adding buildup. "A great edge control can help refresh your style but it should also aid in keeping your hair moisturized and fortified," says Redway.
As for the twists themselves, anti-humidity mists and conditioning sprays with an absorbing oil, such as jojoba, argan, or almond, will ensure that they are hydrated and strengthen your hair. Touchups can also provide much-needed restoration as the hair begins to grow out. "I recommend refreshing at the six-week mark to make the most of your style," says Nash.