Hailey Bieber's Dainty New Hair Accessory Will Be *Everywhere* By Next Month
@haileybieber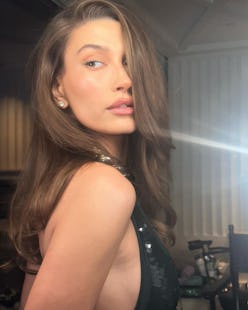 We may receive a portion of sales if you purchase a product through a link in this article.
The year may only be 11 days old, but 2023's biggest beauty trends are already making themselves known. Of course, several are carried over from the styles that were huge in 2022, but you can be certain that celebrities will find ways to update them for the year ahead. Case in point: Hailey Bieber's ponytail with ribbon, a coquette-chic look that she debuted in a new TikTok video. Though it's been up for less than 12 hours, the clip has already amassed 250,000 views and is sure to reach the millions, like the majority of Bieber's other videos — numbers that indicate the model and Rhode founder's undeniable influence is still going strong.
In the video, Bieber poses in front of a mirror while someone — likely her go-to makeup artist, Leah Darcy, whom she tagged in the post — zooms in on her stunning beauty look. "Back at it," the star wrote in the caption along with a cupcake emoji, all soundtracked to Lana Del Rey's "Diet Mountain Dew." It's not clear exactly what the pair is working on (perhaps a new product for Rhode?), but it's sure to be as chic and model-off-duty-effortless as everything else Bieber touches.
Along with her signature dewy glow, Bieber is wearing a glossy pink lip color and flushed cheeks, almost bordering on the "I'm cold" makeup look that's emerged as a major trend this winter. It also seems like she might have some shimmery eyeshadow going on, though it's hard to get a good look at it in the video.
However, Bieber does let viewers get a peek at her sweet hairstyle — a slicked-back ponytail with a center baby part and her ends styled into tousled waves. The pony is secured with a silky hair ribbon tied in a neat bow, which instantly adds a romantic touch to the look. From Ariana Grande's love of bows to Florence Pugh's 1950s hairstyles in Don't Worry Darling, 2022 was chock-full of coquette-inspired hairstyles, with hair ribbons at the forefront — and it looks like they'll stick around for the foreseeable future.
Ahead, shop some of TZR's picks to recreate Bieber's sweet hair look — though you can just as easily use a piece of leftover holiday ribbon to get the same effect.