Kerry Washington Got The Most Mermaidcore Hair Color & Style For Her Summer Vacation
@kerrywashington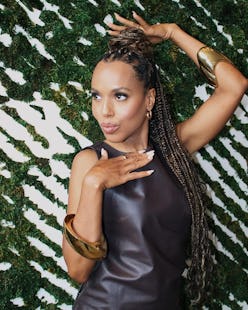 They say nothing helps trap the feeling of a memory in real time like tethering it to a scent — that's why so many people pick new fragrances for big moments, like wedding days and once-in-a-lifetime vacations. Kerry Washington, though, has a more creative approach to the time capsule effect: distinct hairstyles for all her best trips. This summer alone, she's already done the classic blonde box braids while hanging out poolside, accenting them with whimsical hair cuffs and rings. Now, Washington's red locs have taken over, freshly installed for a sun-soaked trip to Jamaica — and the first pictures are so stunning, her Instagram comments are jammed with compliments from her A-list colleagues.
Washington revealed the look on her page with a three-part photo carousel, featuring a Kingston, Jamaica location pin as her caption. Her long hair features a deep side part and an ethereal combination of loose curls and red ombré locs flowing all the way down to her waist. Celebrities like Zoe Saldaña, Priyanka Chopra, and and Uzo Aduba all gathered in the comments to gush about the standout look, along with a thousand other fans of the Unprisoned star. When hair this great pops up on the feed, attention must be paid.
Washington's worn every chic protective hairstyle under the sun through her time in Hollywood, but the locs are a rare sighting on her. A bit further down on her Instagram grid, though, she posted a video of herself joyously dancing and swimming underwater, which may give some insight into the inspiration behind her new locs. The mermaidcore trend has been absolutely everywhere this summer, and not even celebrities are impervious to The Little Mermaid reboot's charms.
Regardless of the motivation behind the summery style switch, it's worth recreating. Celebrity hairstylist and artist Larri Russell is the creative behind her look, along with extensions from Takisha Sturdivant-Drew. As the mermaidcore trend only rages on, consider dabbling in locs, or even just a beachy shade of red, to close out June.