Hailey Bieber's Latest Hair Accessory Obsession Is The Key To Her 'Soft Girl' Aesthetic
She has it in every color.
@haileybieber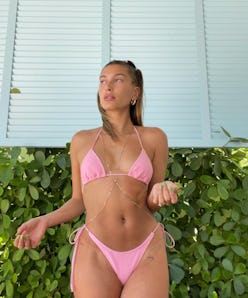 Imagine for a moment, if you will, the sheer amount of freebies that arrive at the Bieber household each and every day. The endless access to the best of the best — clothing, accessories, beauty products — means only the most remarkable bits in Hailey Bieber's collection get true replay value. Her latest obsession? Short, girlish bows fascinated above half-ponytails and buns, in every color imaginable. Hailey Bieber's hair ribbon phase is only just beginning, but something says this could be just the thing to finally usurp the ubiquitous claw clip as the it-girl accessory of summer 2023.
Bieber's penchant for the femme, classic bows is all over her latest Instagram dispatches, two back-to-back photo dumps detailing her romantics early-summer trip to France with her husband and a few friends. There, in between shots of their decadent dinners and yachting excursions, Bieber is seen wearing five different hair ribbons with five different outfits on the trip — each look and corresponding bow, though, couldn't be more different. She pairs sleek, slicked buns with tighter and shorter ribbons, while her free-flowing waves and other more relaxed hairstyles are adorned with longer streamers.
That latter version is a key component of Bieber's carefully-curated "soft girl" aesthetic, a TikTok-favorite style defined by quiet, neutral color schemes, breezy garments, and minimalist, traditionally girlish hair and makeup. Coquettish hair bows, which Bieber's worn a few times publicly before, certainly fit the look. In a rather unexpected move, she even paired her cherry-red bikini with matching ribbons, left long and trailing above her half-up hairstyle.
Toward the beginning of March, Bieber welcomed spring by sporting several tiny-sized bows sprinkled through the blunt-cut bob, signaling the start of her new fixation. Those bows, however, were much more structured, carefully looped and strategically placed. Bieber's vacation vibe, on the other hand, is much more intentionally haphazard — like a long, pretty ribbon was all she had on hand to pull her hair back.
To get Bieber's bow look at home, a focus on casual placement and size is crucial. She seems to favor the longer, shoulder-skimming lengths, with an actual tied bow being more of an option than an essential — it's all about the breezy ribbon tails. An easy rule of thumb is to cut the ribbon to roughly match the length of your hair. Regardless of if you've got a Bieber bob or hip-length curls, the proportions make any style look so fairytale-perfect.