Jennifer Lawrence Loves A Hair Accessory, But This One Deserves Its Own Spotlight
Michael Loccisano/WireImage/Getty Images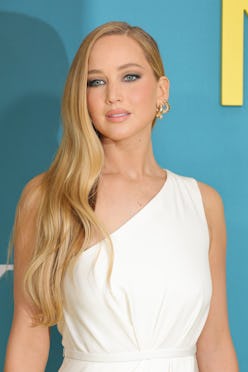 We may receive a portion of sales if you purchase a product through a link in this article.
In this day and age, the fanfare and mounting buildup surrounding a movie's release is almost as exciting as the moment you sit down to actually watch it. Maybe it's a delayed reaction to worldwide theater re-openings or maybe it's just the studios milking every project on the slate (maybe a little of both?), but for fans, it means a month-long parade of movie stars in a new, exciting look and locale almost every single night. Though she's powered through tons of fresh hairstyles, makeup, and outfits while promoting No Hard Feelings, Jennifer Lawrence's headband seems to be her only aesthetic element getting some replay value. She wore the thick, black headband while doing an on-camera interview for Access Online, then again for a taping of the single most important interview of any publicity cycle: Hot Ones.
Yes, something about watching your favorite celebrity dressed to the nines as they cry over a ghost pepper chicken wing is at once totally entertaining and kind of comforting, but some stars do it better than others. Fast-talking, always-hilarious Lawrence delivers, and serves up some beauty inspiration, too, by making a classically prim hair accessory feel modern, glamorous, and even a little edgy thanks to the gold hardware on her outfit. Like all of the styles for her No Hard Feelings press commitments, it's the work of celebrity hairstylist Gregory Russell.
So much of Lawrence's look hinges on her hair's center part. By laying the foamy black satin headband directly over the part, using the legs to gently sweep back just the sides of her hair, it feels more like a jewelry-esque accessory than a utilitarian hair tool. The thoroughly modern part also helps rebel against headband's the formal, prep-school reputation, a far cry from the pushed-back looks from the '80s and even earlier. She filmed both her Access Online interview and her Hot Ones appearance the same day and in the same outfit, which is the best possible endorsement for that headband — you already know gifs of her tearing up a spicy wing will go viral the minute the episode drops on Thursday.
To get Lawrence's look, go for a thicker yet simple headband style in a sleek satin or plain cotton finish. After blowing your hair out with tension, tame any frizz or flyaways with a light-hold finishing spray or gel, then place the headband directly over your part and behind the ears. Crucially, don't forget some earrings afterward — with lobes on display front and center, a little flash of metal ties it all together.