I've Found So Many Ways To Style My Bob Thanks To These Key Tricks
Jennifer Johnson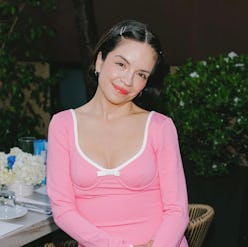 We may receive a portion of sales if you purchase a product through a link in this article.
I've dabbled with short hair on and off since 2016 (with a brief attempt at growing it out in the midst of the great lockdown of 2020). The past few months, however, have seen my shortest length to date, with my cut reaching chin-length bob status. While obviously trendy, this hairstyle is also daunting in that you can feel limited from a style perspective when sky-high ballerina buns, braids, and voluminous ponytails are taken out of the equation. However, I quickly learned, through the magic of social media, that styling my short bob could be a varied experience if I was armed with the right tools.
To be clear, my first few weeks with my super short French-inspired hair consisted of stick-straight strands or — after a few days left untouched — subtle third-day waves. I didn't color outside the lines, because I really didn't know where to start. As it happens, baby steps in the form of dainty bedazzled barrettes changed the game for me. On a particularly frustrating hair day, I managed to pull my thick middle-parted mane back into a tight nearly non-existent ponytail. To jazz it up (and keep it in place) for a work call, I popped said barrettes in, '90s style, with one clip fastened along opposite sides of my hairline. While simplistic in nature, the look felt cool and fresh. And with this, a door of hair opportunities was opened.
Yes, in the past months, I've become quite playful with my little haircut, experimenting with half-up hairstyles, fun accessories, and even my wild natural curls. I've learned that the bob life can be quite multi-faceted when you expand your reach a bit. Ahead, the three styling tips that keep my bob interesting and ever-changing.
Embrace Accessories
As I mentioned before, hair accessories have played a big role in keeping my hairstyles diverse. I've recently learned to work with hairpins, using them to twist pieces up and back in interesting ways. (Styling tip: spritz sections of hair with dry shampoo or texture spray to give it some grit so the pin will stay put). I love a fun hair tie for updos — if I do a little half-bun, I'll pop in an embellished pin to jazz up the look a bit. And, of course, a thin headband is always a great way to kick up any otherwise plain hairdo.
Keep It Sleek...
I will also gravitate towards a sleek, tight rounded bob. It reads incredibly Parisian and chic to me. Because of my hair's naturally wavy and thick texture, I need a number of products to keep it from curling or frizzing. I usually blow out my mane with my Dyson Airwrap, then run a warm (not hot) flat iron over the top layer of hair. A lightweight oil is a non-negotiable to tame flyaways and give my look a shiny finish.
Or Mess Things Up
In recent years, I've learned to lean into my natural texture. Straight out of the shower, I'll spritz my hair with a texture spray or styling cream, scrunching my strands with my hands to encourage the natural curl. Once the hair is dry, I'll work a bit of texturizing paste into the tips to keep the look messy and undone.