Looking For A New Concealer? These Are The Best For Flawless Coverage
@_theruthiehaynes_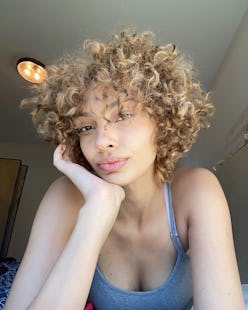 We may receive a portion of sales if you purchase a product through a link in this article.
Join TZR editors for Main Squeeze, the series dedicated to sharing beloved beauty products — be they bold, effective, or simply fun — that make our week just a little bit better. Ahead, Team TZR spotlights their favorite concealers of the moment.
When it comes to makeup, there are a few staples that no collection should be without. These are the hero products you turn to time and time again whether you're going for full-glam look or low-key no makeup-makeup. Out of all of these staples, none none are hardworking than concealer. As the OG multitasker, this product can illuminate dark circles, hide under-eye bags, and cover blemishes. However, the best concealers can do even more. Between varying finishes and skin care-infused formulas, these tiny tubes have evolved to work even harder.
For example, peachy-pink toned concealers are ideal for evening discoloration, while deep shades can be used to contour and sculpt certain areas of the face in order to add depth and highlight bone structure. As a matter of fact, some concealers can even double a lightweight foundation.
With so many uses, it's a good idea to have a few options in your arsenal that you can rely on no matter what look you're trying to achieve. But in a sea of options, finding the best concealers for your makeup needs can be overwhelming. That's where TZR's top picks come in. Ahead, editors share their 10 favorite concealers for covering blemishes, masking dark circles, blurring hyperpigmentation, and so much more.
"I use this concealer in the shade 1.5 and it works well if I need to quickly cover up some redness around my nose and chin. The concealer is lightweight and buildable, so it's perfect for those who want a no-makeup look. However, I do find that if you have super dry skin, like I do, the concealer can sometimes appear flaky on skin, so I recommend wearing a hydrating moisturizer first before applying this formula." — Marina Liao, senior fashion news editor
"In college, the first concealer I ever tried was this cult-classic NARS one. Despite it being a splurge for me at the time, I immediately fell in love with its creamy, blendable formula that covers redness, dark circles, acne, and hyperpigmentation without looking or feeling cakey. Today, there are a handful of concealers I love, but this one still holds the title of my favorite." — Erin Lukas, deputy beauty editor, TZR
"This little number recently made its way across my desk and I tried it for research purposes, of course. I took it on a work trip and wore it every single day — that's how much I loved the texture, color, and application. It blends in easily — with the help of the handy attached buffer brush — and covers nicely without looking cakey or heavy on my face. It's literally second-skin makeup!"— Angela Melero, executive editor, TZR
"I never, ever thought sheer concealer would be something I'd go for. My number one skin struggle is with uneven skin tone, so I assumed I was doomed to a life of full-coverage everything. When I got my hands on Huda Beauty's Glowish concealer, though, it legitimately felt so freeing, especially in the spring-summer heat. Super luminous (as the name would suggest), the formula reflects light around my eyes and through areas with discoloration so it all just feels so much more seamless, blended, and even without caking my face in coverage. I really love it." — Amanda Ross, beauty editor
"I've turned many a friend onto this concealer from Huda Beauty, and that's because it works. The formula is surprisingly full-coverage for a liquid concealer, but the magic happens once you start to blend it in. The concealer "stretches" over fine lines and blemishes like a liquid Spanx for your face, and smooths everything out for a blurred, airbrushed finish. It's mind-blowing." — Faith Xue, executive beauty director, BDG
"Concealer is by far the one product I can't do without. That said, I keep a few in my makeup bag that vary in finish and coverage. This cult-favorite option from E.L.F has remained in my rotation because it covers my dark circles like a dream and has soft matte finish that is self-setting, so I don't have to use too much powder to keep it in place. It's also super affordable, and with a wide selection of shades can easily be used to contour and highlight the face." — Jessica Fields, beauty writer, TZR
"I usually reach for light-medium coverage products when it comes to my face makeup, but I make an exception for concealer. I need a product that's going to hide any imperfections on my face, and this product does just that without creasing or cracking. Not to mention, it's so affordable." — Maggie Haddad, senior social media strategist, TZR
"I've tried an immeasurable number of concealers over the years, and I have to say: This is one of the few that not only gives thick and invisible coverage, but it also lasts over the course of a (what is often a very long) day. In a rush, I sometimes even skip the foundation step and go straight to using this since it's strong enough to even out my dark spots without an extra layer of help." — Alison Syrett, deputy fashion editor, TZR
"As I get older, I find it more difficult to find concealers that blend smoothly under my eye area without cracks between the fine lines. I've tested quite a few in just the past few months and I found that the trick is to use one with skin care as part of the product. Or, another trick is to apply eye cream right before applying the concealer. I particularly like Ilia's serum concealer because it's lightweight and works well with my goal of a no makeup, makeup look."— Kathy Lee, editor-in-chief, TZR
"As the companion to Giorgio Armani's cult-favorite Luminous Silk Foundation, this creamy concealer has a natural, second-skin finish with a hint of radiance. It especially comes in handy on the morning after a late night – it illuminates my under eyes without any caking or creasing and the caffeine, glycerin, and vitamin E in the formula helps de-puffs the area. As for the rest of my face, it miraculously evens out redness and discoloration with an airbrushed effect. I do need to dab a little extra on extra dark post-inflammatory spots, but it layers well."— Lukas