Meet The Dream Eye Cream Duo Every Beauty Insider Is Raving About
Luxury quality without hurting your wallet.
Olay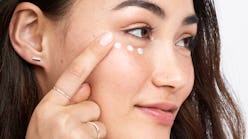 When beauty editors and influencers who have sampled just about everything under the sun can't stop raving about a product, it's for one reason and one reason only: It's just *that* good. Right now, the latest launch to get insiders excited is none other than Olay's new 10 Years Younger line, which consists of a day and night eye cream that are designed to make the delicate under-eye skin look more youthful in less than a month.
While the skin around our eyes is famously tough to treat because it's thinner and more prone to wear and tear, Olay's synergistic combo is specially formulated to target this sensitive area with the utmost care. The clean, gentle formulas are not only fragrance-free and backed by science, but also made without parabens, phthalates, and synthetic dyes, so they're a great choice for everyone. It's no wonder skin-care lovers are so obsessed. Keep reading for all the details on this new dream duo and why it's become beauty insiders' new go-to.
They're Made With Expert-Recommended Ingredients
Both of Olay's day and night creams are formulated with clinically proven active ingredients like caffeine, niacinamide, and retinol — as well as peptides recommended by dermatologists. In the Olay 10 Years Younger Day Eye Cream, you'll find said peptides along with caffeine for fending off puffiness and niacinamide to help hydrate, soothe, and brighten up the area.
As for the 10 Years Younger Night Eye Cream, the formula combines niacinamide and peptides with trusty old retinol, which is one of the only ingredients proven to enhance skin cell turnover and collagen production. Together, they leave under eyes smooth, plump, and visibly refreshed. Additionally, both creams were uniquely formulated to deliver ingredients deep into the skin's surface, making them all the more effective.
They Work Their Magic In Less Than A Month
It's true. In just two weeks, you'll notice the skin around your eyes looks notably smoother with less texture — and in 28 days, skin will look 10 years younger thanks to the reduction of fine lines and wrinkles. Because the formulas deliver a full 24 hours of hydration, skin starts to function and look better overall; then you add the aforementioned actives on top, and that's when the wow-worthy results come through.
They're A Match Made In Heaven
Why just use one eye cream that gives you few benefits when you could use two that were specifically designed to work best together? Use the 10 Years Younger Day Eye Cream during the a.m. so caffeine can go to work on depuffing, followed by the 10 Years Younger Night Eye Cream in the evening for a hefty dose of retinol (which can make skin more sensitive to the sun). When used together — and consistently, we might add — under-eye skin look visibly healthier and more youthful. It's also worth noting that investing in both creams will still cost you less than one prestige eye cream — plus, they offer super high-quality results.