These Pressed Powders Set My No-Makeup Makeup Perfectly Every Time
Courtesy of Alison Syrett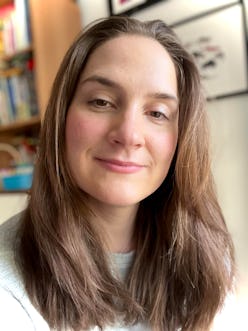 We may receive a portion of sales if you purchase a product through a link in this article.
I've always been on Team Pressed Powders. They're infinitely easier than loose pigment to gently dab on a brush, don't make a huge mess in the bathroom, and come in cute mini compacts you can take anywhere. (Admittedly, I'm less a fan of the gratuitous applicator pouf many options come with — it's always too dirty to use after about three dabs — but this is mere nitpicking.) IMO, anyone who wants a simple, effective way to set off their foundation without sacrificing dewiness, should go for a compact with a neat little tray inside.
All this said, when asked for a recommendation I live and die by, I'm hard pressed (ha!) to offer up one firm answer. Unlike, say, a workhorse serum or face wash I diligently reach for on the daily, pressed powders are something I approach in a wildly inconsistent way. Sometimes I lean toward something with a slight, sun-warmed tint; other days perhaps I might want a subtle translucent sheen that disappears the second it hits my skin. It all depends on what my mindset and makeup vibe is in the moment.
Below, I've included my go-to face finishers right now for every occasion and mood, alongside the no-makeup makeup routine I usually follow beforehand.