Saie's First-Ever Foundation Is Like A Built-In Filter
"Glowy super skin," indeed.
Courtesy of Erin Lukas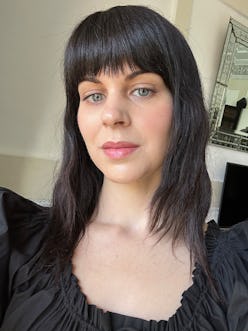 We may receive a portion of sales if you purchase a product through a link in this article.
In our series Trial Run, TZR editors and writers put the buzziest new beauty products to the test and share their honest reviews. This week, deputy beauty editor Erin Lukas is testing Saie's Glowy Super Skin Lightweight Hydrobounce Serum Foundation.
No-makeup makeup is an oxymoron: Despite the fact that the end goal of this look is to appear as though you're naturally healthy and glowing, you do, in fact, need a handful of products to do so. Currently, my personal everyday subtle makeup routine product tally is nine. Yes, that sounds like a lot, but I only use glow-boosting, skin care-infused formulas that promise long wear, a seamless finish, and as effortless an application as possible. It seems like Saie is on my wavelength.
The clean makeup brand recently launched its first-ever foundation, the Glowy Super Skin Lightweight Hydrobounce Serum Foundation, after slews of requests from its fans. While the name is a tongue-twister, the formula delivers on all of its adjectives — the medium-coverage foundation blurs imperfections and balances uneven skin tone while simultaneously nourishing and plumping the skin.
Thanks to the plethora of skin care ingredients in Glowy Super Skin, the texture is serum-like, which makes it quick and foolproof to apply (whether you prefer your fingertips, a makeup sponge, or a brush), and less likely to cake, crease, or smudge throughout the day.
Since I prefer foundations that act like a second-skin but still offer enough coverage to mask the post-inflammatory hyperpigmentation on my chin and jawline, Saie's formula is like catnip. Ahead, my honest thoughts on the brand's buzzy new launch after test-driving it for the past couple of weeks.
Fast Facts
Price: $40
Size: 30 ml/ 1 oz
Clean/Cruelty-Free: Yes
Best For: Those who prefer a lightweight, natural foundation that still offers some coverage
Ingredient Highlights: Sugar-derived squalane, polyglutamic acid, cross linked HA, non-equilibrium HA, rice bran peptides
What We Like: Feels weightless on the skin; keeps skin hydrated throughout the day; doesn't cake or crease
What We Don't Like: Doesn't cover some dark spots
Rating: 5/5
How TZR Keeps Score: 1/5: Making a return; 2/5: Keeping as a backup; 3/5: Finishing to the last drop; 4/5: Recommending to my group texts; 5/5: Already on auto-replenish
The Formula
There used to be a fine line between makeup and skin care products. However, it's blurry in 2023 thanks to formulas like Saie's Glowy Super Skin. Comprised of 85% skin care-serum ingredients including sugar-derived squalane, two molecular sizes of hyaluronic acid, rice bran peptides, and polyglutamic acid, the product doubles as a treatment because it hydrates, plumps, and brightens the skin, offering both instant and long-term results. The coverage comes from 15% weightless pigment.
The bounty of skin care ingredients are why this foundation illuminates the skin (so you look like a dewy cherub), blends as smooth as butter, and stays fresh throughout the day without any fading, caking, or creasing. While one layer will even tone, brighten, and mask redness, you can build it for more coverage. It comes in 36 shades designed to complement the undertones of various skin tones.
My Typical Makeup Routine
On the average day, I put in too much effort to look like I put in zero effort. My brain is constantly overstimulated (an occupational hazard of working in digital media), so I don't have the capacity to worry, let alone take the time, to zhuzh my makeup. In other words, I like to enhance my natural features with lightweight, glow-boosting, natural-finish products that I won't need to touch up throughout the day.
My go-to makeup routine consists of a hydrating medium coverage foundation (I have a handful I rotate between), a berry-toned cream blush (Violette_FR's Bisou Blush has a natural finish), a cream highlighter that's dewy not shimmery (Victoria Beckham Beauty's Reflect Highlight Stick fits the bill), a subtle contour (I swear by Westman Atelier's Face Trace), a swipe of volumizing mascara (Rare Beauty's Perfect Strokes Volumizing Mascara makes my lashes so fluffy), and a sheer pink lip tint (YSL Beauty's Rouge Volupté Shine Lipstick Balm in Pulsing Rosehip is super hydrating soft rose shade). Because I have bangs, I typically let my brows be because no one fully sees them, and hey, why not cut corners where I can in the morning?
My Experience & Results
As soon as I received Saie's foundation, I immediately put it to the test, wearing it on long days that included morning press events, working in the office, and dinners that went late into the night. The formula truly does look (and feel) like a tinted serum, so it goes on smooth and even by simply massaging it onto my skin with my fingertips. Afterwards, I tap a Beautyblender all over to ensure the foundation is completely blended.
Aside from the effortless application, what struck me the most about this foundation is the healthy glow it adds to my skin — it's just the right amount of dewy without looking too glazed. (Yes, it is possible!) In the two weeks since I've started wearing it nearly daily, I've received a handful of compliments on my skin and even got a few inquires about my routine. Above all, this foundation wears with you. Throughout my sometimes 12-hour days, it looked just as fresh as it did when I first applied in the morning without any touchups. It doesn't cake or crease and I think it actually looks even better when it marinates with my skin's natural oils and sweat. I also appreciate the shade range, which was created with the brand's community and includes options for a wide range of skin tones and their corresponding undertones. For reference, I wear shade 8.
The one caveat? I found that this foundation didn't provide enough coverage for particularly stubborn dark spots I have on my chin from past hormonal breakouts. However, I dabbed a little extra on these areas and it concealed the discoloration better.
Is Saie's Foundation Worth It?
With the swampy, hot, humid days upon us in New York, Saie's Glowy Super Skin Lightweight Hydrobounce Serum Foundation will serve as the loose linen pants of my makeup routine — it provides coverage but it's light so it doesn't exacerbate sweat. At $40, it's mid-range in terms of price and the serum-like texture only requires half a pump to cover my entire face with its dewy-finish goodness. Needless to say, the bottle will last through spring and most likely get me through most of summer. So if you like unfussy, weightless foundations that provide a glowy, your-skin-but-better look and have everyone complimenting your skin, this one is a worthwhile purchase.