Pink Concealer Is The Ultimate Hack For Erasing Dark Circles
It's makeup artist-approved.
@burtonregina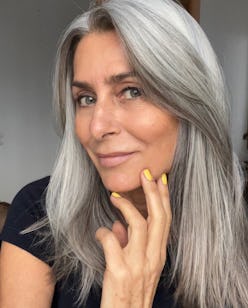 We may receive a portion of sales if you purchase a product through a link in this article.
On days when you've only slept for two hours the night before, a double shot of espresso can even fall short at making you look and feel awake. So if your emergency coffee order isn't doing the trick, your go-to full-coverage, brightening concealer probably isn't able to mask your extreme level of exhaustion either. However, switching to pink concealer to cover your dark circles can be your saving grace.
With dewy 'glazed donut' skin and other no-makeup makeup looks showing no signs of waning, the quest to appear natural, bright-eyed, and bushy-tailed (including eyes that don't scream, "I'm tired!") constantly propels consumers to drop their hard-earned cash on the latest product innovations that promise to cover up unwanted darkness and discoloration. There are new countless brightening eye serums, creams, and masks, to try, but pink concealer, a product that has been around for years, is re-entering the chat because a number of creators on TikTok are rediscovering it.
Ahead, TZR turned to top makeup artists to find out how to effectively use pink concealer, including how to apply it and how to adapt it to your skin tone.
How To Use Pink Concealer In Your Makeup Routine
Pink concealer is popular among beauty enthusiasts and professional makeup artists for its ability to neutralize and counteract dark circles, a common issue many people deal with. Makeup artist Alexandria Gilleo says the color cancels out blue or purple undertones in the skin, creating brighter, more even-toned skin. "Plus, pink concealer makes the skin appear more radiant. Using pink concealer is one of my favorite beauty hacks." Her favorites include the viral Maybelline NY Instant Age Rewind Eraser Dark Circles Treatment Concealer to counteract under-eye circles and Yves Saint Laurent Touche Éclat All-Over Brightening Concealer Pen in Luminous Radiance for adding instant brightness to the face.
Stila Cosmetics' Global Beauty Director and Head of Artistry Charlie Riddle explains that although pink concealer can temporarily improve the look of dull skin, these formulas generally contain less pigment than more traditional color correctors, even though they are often categorized as one. "Most pink concealers are more like a hybrid product that covers and corrects versus doing one or the other." Plus, he adds that the effects of skin brightening complement trending monochromatic all-pink makeup and smoky eye looks.
So while using pink concealer is a quick and easy fix for hiding dark circles and unwanted pigment, it won't help much with covering up red, inflamed blemishes. However, a pink concealer can hide the post-inflammatory hyperpigmentation that's left long after a pimple has healed.
Pink Concealer Vs. Skin-Toned Concealers
Unlike pink concealers, which come in shades ranging from blush to deep peach, skin-colored concealers are available in a more comprehensive range of shades, allowing for a wider array of purposes. Makeup artist Spencer, a.k.a @paintedbyspencer, adds that pink concealer boasts a pink or peach undertone, while traditional ones are usually beige or yellow-toned. "This difference in color makes pink concealer effective for neutralizing dark circles and other discoloration," he says.
No matter if you wear a pink-hued formula solo or layered with foundation and/or concealer in traditional skin shades, the best places to apply it are under the eyes, in the inner corners of the eyes, high on the cheeks above blush, and along the jawline. Celebrity makeup artist Emily Gray warns against using too much pink all over, which can look clownish. "But pink under the eyes looks great because it blends into blush for a more natural and cohesive look," she adds.
Standard concealer application techniques and tools work well for applying pink hues, so feel free to layer it on with your ring finger, a BeautyBlender, or a small flat brush. Gilleo recommends starting with minimal coverage and building up as needed. She says to add regular concealer over the pink one for an even better skin tone match, especially for skin that is not cool and light. Gray adds that using pink concealer without additional concealer on top of skin that isn't light will prevent the color from blending in properly and leave the skin looking ashy. Finally, set everything with pink or translucent setting powder rather than yellow. "Yellow-toned powders will take away from the overall brightening effect," Riddle shares.
Does The Pink Concealer Hack Work On Dark Skin Tones?
Spencer says pink concealer can work for all skin tones if you choose the right shade based on your undertones. "Those with light-cool undertones may benefit from a pale pink concealer, while someone with deep warm undertones may opt for a saturated peachy-pink concealer," he shares. It may be challenging for darker skin to find the right shade of pink concealer, but that doesn't mean they should swear them off. Instead, Gilleo recommends mixing pink concealer with a deeper shade of pink cream. Similarly, Gray says to blend pink liquid blush into regular concealer and then use a pink under-eye powder to create an effect similar to a pink concealer. But if the mix-and-match approach is a little too tedious, you can also opt for a darker pinky-orange concealer, like Fenty Beauty by Rihanna Bright Fix Eye Brightener Concealer in Pumpkin.
As for finding the right shade of pink concealer for your skin, match its color depth to your natural skin tone. Gilleo recommends looking at the veins on the underside of the wrist in natural light (near a window) to find the skin's true undertone. "Skin can have a warm, cool, or neutral undertone, so consider whether the veins appear blue or green. If your veins appear blue, your skin has cool undertones, and if they look green, you have warmer undertones," she says. "If you can't tell, your skin may have a neutral undertone. Then, opt for a shade slightly lighter than your skin tone to help brighten your face."
The Best Pink Concealers