My Minimalist Summer Makeup Routine Only Takes 5 Minutes To Do
Marina Liao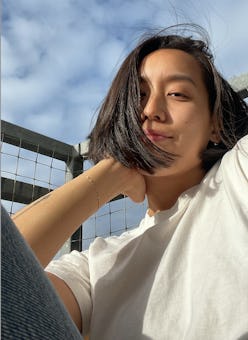 We may receive a portion of sales if you purchase a product through a link in this article.
For me, spring cleaning isn't just about what I'm clearing out from my closet (goodbye jeans! goodbye turtlenecks!), it's also about organizing my beauty drawer. I take the time to toss out any expired winter skin care and makeup products and restock my stash with season-appropriate favorites like a sweat-proof facial sunscreen or a light, tinted moisturizer. Cleaning out my beauty drawer also helps me plot out my minimalist summer makeup routine. I keep the four to five products I use daily within reach while the rest go into a clear plastic bin until fall rolls around.
When it comes to makeup for the warmer months, I like to use as little product as possible on my face. After moisturizer (CeraVe is my favorite), I'll apply sunscreen then follow up with several dabs of concealer around my nose and on my chin to hide any redness instead of applying foundation all over. Once my base is set, I'll use a hydrating tinted lip balm to give my lips a slight sheen in the sunlight, and I always apply mascara to lift my lashes — voilà, done!
It turns out, my less-is-more approach is in line with what the beauty pros recommend you do for summer. "When it's hot out, I would stay away from any super full coverage products, especially when it comes to complexion. The last thing you want to do is constantly touch up your makeup on a summer day, and a full-coverage look is bound to be impacted by sweat and sun," says Gerri Molina, vice president, product development and innovation at Merit. Instead of using an all-over foundation, Molina recommends a light to medium coverage concealer or foundation stick.
Additionally, Sara Nicole Smith, Bobbi Brown cosmetics global pro artist says: "Choose super lightweight, sheer, creamy products in the summertime, think tinted moisturizers and cream blush. These lessen the chances of your makeup turning into a sweaty disaster and instead melt into a naturally dewy glow. Sweat-proof, water-resistant products are also key to ensure any oils or sweat from the day won't melt away your makeup."
Ahead, check out the products I rely on for my easy summer makeup routine, along with some picks from the pros.