The Cult-Favorite Beauty Products Industry Insiders Always Pick Up On Their Travels
Take notes, then book a flight.
@fatfatpig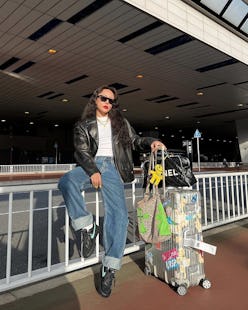 We may receive a portion of sales if you purchase a product through a link in this article.
Many people would agree that discovery is one of the best parts of travel, whether it's stumbling upon a quaint cafe that serves mind-blowing food, turning a corner in a small museum to come face-to-face with a beloved piece of art, or ambling aimlessly along an unpaved path that leads to a breathtaking view. For those in the beauty industry, like celebrity makeup artists or manicurists, the joy in exploring comes from wandering down aisles in an overseas pharmacy, trendy boutique, or museum gift shop (if you're makeup artist Nick Barose) to find a beauty product that makes you pause, reach, and buy. And that's exactly what the beauty elite does whilst globe-trotting.
Because their work takes them all over the world, these insiders have the opportunity to nip into shops and use their discerning eyes to suss out finds not always available in the U.S. Sometimes it's the ingredients that are appealing (thanks to differing regulatory standards than in the States) and sometimes it's about finding an item that's unique (manicurist Emi Kudo always gets compliments on the hair accessories she picks up in Tokyo).
Curious to know what beauty products these pros pick up overseas? TZR polled some of the beauty industry's top tastemakers to find out the products they always make a point to purchase on their travels. Luckily, some of their favorites you can get online; the rest require a passport.
Erin Ayanian Monroe, Celebrity Makeup Artist
This L.A.-based makeup artist, known for her work with Lucy Liu and Dakota and Elle Fanning, has been working with the latter on the London set of The Great on and off for the past three years. She admits: "Every time I'm abroad, I hit the pharmacies to look for any wonderful products that aren't available in the U.S." One such excursion in Paris led her to Homeoplasmine Cream. "It's an amazing multi-purpose balm that's great for healing dry patches anywhere," she explains, adding that she particularly loves it for hydrating the lips and keeping them matte. "It doesn't add shine."
She's since introduced it to celebrity hairstylist Jenda (who also works with Liu and the Fannings): "We were staying in a hotel in New York recently and spent the evening doing masks and caring for our skin. She swore that the next morning, after having slept in Hemoeplasmine overnight, that she saw a real difference in her skin texture." Some fans of the product use it as an eczema treatment, while others claim it works well as a makeup primer.
Emi Kudo, Celebrity Manicurist
She's one of Hollywood's most in-demand manicurists, tending to the hands of Angelina Jolie (and her children), Michelle Yeoh, Emma Stone, Julia Louis Dreyfus, and Brie Larson. And when she travels to Japan, be it for work or pleasure, she always pops into Tokyo drugstore Kiyoshi Matsumoto to stock up on hair clips, hair pins for French twists, facial toner, and sun protection, most notably Kose Suncut (which you can find on Amazon). "It's always on my shopping list," she says. "The sunscreens [in Japan] are much lighter, but have more UV [protection] than U.S. sunscreens." She adds that this gel feels light and silky, "unlike sticky white U.S. sunscreens." Other benefits: It's fragrance-free, waterproof, not greasy, nor drying.
Kahlana Barfield Brown, Fashion & Beauty Editor & Expert
Barfield Brown is the former beauty director of InStyle magazine, a fashion and beauty expert, TV commentator, Target collaborator, and a world traveler. While on a trip to Paris, she sought out the cult-status Bocage deodorant from the Lancôme flagship store on the famed Champs Elysees. What makes this one particularly worthy of an overseas buy? "I tend to find spray deodorants in the States not as effective, but this one keeps me dry and smells so good," she explains. And it's now a staple. "I travel to Paris at least twice a year for fashion week and I do not leave without stocking up before I head home to the States. I've definitely almost missed a flight because I stopped by the Lancôme store en route to the airport." But clearly, it's worth the risk.
Nick Barose, Celebrity Makeup Artist
Lupita Nyong'o, Kim Cattrall, and Gugu Mbatha Raw rely on New York-based Barose for his masterful strokes of color as well as understated neutrals. Though work and play take this makeup artist around the globe, including annual trips to his homeland of Thailand, his latest exotic find was actually found in the U.S., albeit in Hawaii. He first discovered Lanikai Coconut Oil for Body and Hair in Tahitian Gardens scent at the Iolani Palace gift shop. (The Palace, former residence of the Hawaiian royal family, is now a museum; Barose loves to peruse museum gift shops for unique finds.) Barose, who doesn't like most fragrances, finds this a soft, natural alternative. "I love rubbing it all over my body and scalp when I wake up, as well as before going to bed for a fresh, relaxing scent," he says. "I always get compliments on the beautiful scent." He also wears the Pikake (jasmine) and Puakenikeni (traditional Polynesian flowers used for leis) and buys the oil as gifts. "I sent it to clients like Lupita and Heather Graham and they love it, too. It's Polynesian paradise in a bottle."
Jillian Halouska, Celebrity Hairstylist
Hairstylist Halouska, who works with the likes of Sarah Paulson, Anne Hathaway, and Austin Butler, currently lives in Paris and travels around Europe for work, affording her the opportunity to nip into boutiques and pharmacies to hunt for new products. One such shop she discovered on a work trip to Amsterdam is Marie-Stella-Maris, which she calls a "slice of beauty heaven. The shop is beautiful — they have everything from body balms to home scents to hand washes. Their Objets d'Amsterdam Room Spray is currently in my living room." The spray has top notes of lemon, bergamot, green tea and orange, a heart of sage, rose, camellia and lavender, and a base of musk, amber, and vanilla. Basically what you'd want your apartment in Paris to smell like as well.
Shani Darden, Celebrity Esthetician & Founder Of Shani Darden Skin Care
The Beverly Hills-based esthetician and skin care creator, who counts Laura Harrier, Emma Stone, Jessica Alba, and Riley Keough as clients, has been on the LED light therapy bandwagon for years. She says the "incredible glow-boosting effect it has on the skin" makes it a must in her treatment arsenal. To boot, it improves acne, wrinkles and uneven skin tone. Darden says that Stone "knew about my obsession with LED light and she had tried the Deesse Mask herself" and wanted to share her find. "The funniest part is that I think she drove very far to pick up the mask for me to try," shares Darden. Darden first tried the Deesse in early 2017, "which was being manufactured in Korea at the time," she says. "I fell in love with it. It had the most lights I had seen on a mask and the results were amazing." She later partnered with the brand and now sells her own version of the mask.