The Step-By-Step Routine That Keeps My Dark Circles Hidden All Day
Courtesy of Jessica Fields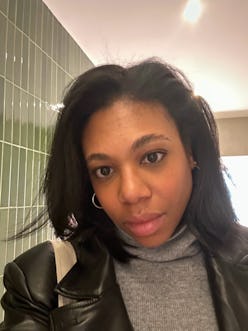 We may receive a portion of sales if you purchase a product through a link in this article.
When it comes to skin care, I've been pretty blessed to have received the good genes from my mom's side. However, with the good also comes the bad — so while my face looks firm and nicely plump, the skin beneath my eyes is tells the story of the hereditary darkness that runs in my family. A common condition for melanated skin, pigmentary dark circles is a form of hyperpigmentation that's often due to genetics. In other words, they are completely unavoidable. For me, that meant figuring out how to cover my dark circles via a routine that's quick and easy.
Admittedly, mine are not the worst (no doubt thanks to a moisture-rich skin care routine), but hiding them is still an annoyance when getting ready in the morning. I like to keep my daily makeup look quite light with little-to-no foundation. While this is nice for showing off my freckles, it does make covering the darkness under my eyes a challenge. On the contrary, coverage on a full-beat makeup day is extremely easy to achieve, though there is the hassle of maintaining a smooth look with minimal product creasing.
Thankfully, a learning curve of application techniques and a revolving door of products has eased the struggle of concealing my dark circles over the years. Below, I've listed the methods and items that constantly give me results. Whether your dark circles are hereditary or simply due to a restless night, I've found these tips to be game-changing, and I think you will, too.
1. Prepping The Under-Eye Area
This step is crucial to ensure that my eyes look hydrated and my concealer stays put. The delicate skin under the eyes is prone to dryness and makeup only intensifies that, so prepping the area with a hydrating serum helps a lot. Following the serum, I moisten a small beauty sponge, meant to apply concealer, with a primer-like setting spray and dab it on the area. This keeps the concealer in place and ensures it won't budge throughout the day.
2. Concealing Dark Circles
To counteract the darkness, I look for peachy-toned concealers that will cancel out the blueish tint of the dark circles. For light or no makeup days, I reach for formulas that are buildable but also have skin-loving ingredients. On medium-to-full coverage days, I opt for a thicker formula that conceals in just one swipe.
3. Setting The Concealer
Given how often I put on and take off my blue light glasses during the day, I like to set my concealer with a powder after applying it. Most mornings I'm reaching for a pressed powder because they get the job done with zero mess, but when I have the time I opt for a loose setting powder to get the smoothest finish.