5 Female-Owned Hair Removal Brands That Change The Way We Think About Body Hair
Billie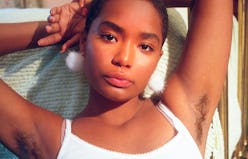 If you asked me about hair removal in April 2015, I would've said it was out. Kourtney Kardashian had just revealed her pubic hair was — quote — "hanging out like it's the '80s" on an episode of Keeping Up With The Kardashians and I (joyfully) thought, "This. This is the end of shaving." While Kardashian's admission didn't put an end to the industry by a long shot, it's an example of how the dialogue about female body hair has opened up — which made room for these female-owned hair removal brands to take over.
"Billie has always maintained that shaving is a choice, not an expectation, and no one should tell you what to do with your body — particularly not a razor brand," Georgina Gooley, the co-founder of Billie, the first women's razor brand to show body hair in its advertising, tells The Zoe Report. "If you choose to shave, we make an excellent and affordable razor." The company belongs to a small but mighty group of women-led "body hair care" startups that have cropped up in the past few years; including Oui Shave (which makes single-blade razors redesigned for female curves), Flamingo (born out of men's subscription service Harry's), DERMAFLASH (tackling female facial hair with at-home dermaplaning), and Fur (known for its cult-favorite pubic hair oil and Ingrown Eliminator pads).
Each brings a unique product to the space, from Billie's charcoal soap-encased blades to Flamingo's at-home waxing strips, but one common thread ties them all together: the belief that hair removal is an option, not the option. And perhaps therein lies the secret to the category's recent success. "Everyone has a routine around their hair, whether that's waxing, shaving, lasering, or letting it all grow," Lillian Tung, the co-founder of Fur, tells TZR. "We really pride ourselves on having created a space that feels inclusive."
Ahead, the five female-owned hair removal brands — and their revolutionary products — that belong on your radar, no matter what your personal body hair preferences.
Billie
Full disclosure: I've subscribed to Billie for about six months, and I can't get enough. I love everything about the brand: the blades, the shave lotion, the magnetic razor holder, the fact that its ads feature women with armpit hair and leg hair and pubic hair. All of that, of course, is by design. "Every aspect of our company is created with women in mind," Gooley say. "Our razors are made specifically for the way women shave in the shower, we price our products fairly and in line with equivalent men's products, we donate 1 percent of sales to women's causes around the world, and we celebrate all women, not just women who shave."
If you're wondering how a razor brand happens to empower women who choose not to shave, look no further than Billie's line of body care products, including the (divine) Sudsy Body Wash. If you do shave, though, Billie's subscription service is worth a look. It lets you choose how often you typically shave and tailors your delivery schedule from there. Each delivery brings four razor heads featuring "five sharp blades encased in charcoal shave soap, so that they easily float over your skin," as Gooley says. "The razor cartridge has rounded edges for when you shave tight areas, and our handle is lightweight and grippy for easy handling when wet."
Oui Shave
Does your skin ever get red, irritated, or bumpy post-shaving? The answer to that question, for most women, is a resounding yes — which is why Oui Shave founder Karen Young (who's a Black business owner!) set out to find a better way. The solution she landed on is an updated version of an old-school men's safety razor, or "a single blade, exposed on two sides, housed in a metal razor, which is cleverly designed to expose the skin to only a sliver of the blade," Young told Forbes. (The thought being, if the standard four to five blades give way to razor burn, wouldn't just one be gentler?) To further cut down on irritation, Oui Shave adds skincare to the mix: Every razor is sold with a luxe shave oil, infused with neroli, or a whipped shave cream, a blend of blood orange and jasmine.
The sturdy, stainless steel razor is good for more than just a clean shave, though — it's also good for the environment. Two billion plastic razors end up in landfills each year, and part of Oui Shave's mission is to make a non-plastic razor you never want to get rid of. Mission accomplished.
DERMAFLASH
"Women have been hiding in the bathroom with the water running using their husbands razors to remove the hair from their face for decades," Dara Levy, the founder of DERMAFLASH, tells TZR. It's at least partly true: Women's facial hair is still a bit of a taboo topic, which is probably why removal options for the face have lagged behind their leggy counterparts. "Before the invention of DERMAFLASH, there literally was not a gentle yet effective solution available," Levy says. "A woman would have to go to a med-spa and pay hundreds of dollars for a dermaplaning treatment — I realized most women did not have access to the treatment, and if they did, the cost of even one treatment is prohibitive." That's when Levy had her lightbulb moment for DERMAFLASH: a handheld electronic device that gently razors away peach fuzz and dead skin cells to reveal a soft, smooth, hairless face.
"DERMAFLASH, at its core, is all about female empowerment," the founder says. "There is nothing better than feeling good about the way you look." In addition to removing the fine vellus hair on your face, the device (a favorite of actress Taraji P. Henson) is also useful for makeup prep. "DERMAFLASH creates a flawless canvas for makeup," Levy tells TZR. "But we hear all the time about women loving their skin so much after using the device, they find themselves wearing much less makeup."
Flamingo
"I was an early member of the Harry's team and found myself in the same position as many other women: using a Harry's razor," Allie Melnick, the GM of Flamingo, tells The Zoe Report. Her experience with the affordable men's product served to shine a light on some problems in the women's hair removal space — namely, low-quality products at a high price point. "It's [wild] that women's shave products still cost 13 percent more, on average, than equivalent men's products," Melnick says.
Flamingo carries that focus on affordability into every aspect of the business, with prices that are kind of unbelievable. For example, the Flamingo Shave Set will get you a razor handle, two German-engineered five-blade cartridges, shave gel, body lotion, a shower hook, and a reusable pouch... for $16.
Its wax kit, arguably the standout product of the range, is similarly priced at just $10 for 20 strips. "Flamingo's wax strips changed my life," Melnick shares. "We visited factories around the world in search of our winning wax formula. We found it in Spain and are the first brand to bring this wax blend to the US." The wax is actually a soft gel, so the strips are ready to use and don't need to be heated. "It also means they can grab shorter hairs, so the wait time between waxes is less," the GM says. "Our strips are double-sided and free of fragrances and artificial colors to keep skin from getting irritated, and each kit comes with post wax cloths with lavender, chamomile, and sweet almond oils."
Fur
Fur may not technically be in the business of hair removal — but it is there to support women in whatever choice they make; be it waxing, shaving, lasering, or going au natural. "There's really no other brand that does what Fur is doing, which is offering high quality products that can work with any and every hair care routine," Laura Schubert, the co-founder of Fur, tells The Zoe Report. "Our product line is meant to be extremely versatile to validate everyone's choices. For example, Fur Oil is great for softening hair, but it's also incredibly effective at preventing ingrowns over time and making sure that your skin stays smooth and clear."
While Fur rose to fame for its namesake Fur Oil (possibly the first pubic hair oil to become Insta-famous), it's now making headlines with its latest innovation, Ingrown Eliminator Mitts. "We wanted something that was super convenient to both travel with and use," Schubert says of the skincare-infused finger mitt. "One swipe of Ingrown Eliminator works to soothe any irritation or bumps, and has a combination of lactic acid and willow bark oil that burrow deep into pores to help unclog any debris."
For the female founders, it's a no-brainer to cater to both women who shave (or wax, or laser) and women who don't. "I think customers really appreciate that we're not excluding anyone, or pressuring them to adhere to one certain routine," Schubert tells TZR. "We're not in the business of making anyone feel imperfect, we're in the business of improving your routine in the hopes that it will elevate your comfort."