Celebrate International Women's Day 2019 By Shopping These 12 Beauty Brands
@hanahanabeauty / @domlshepherd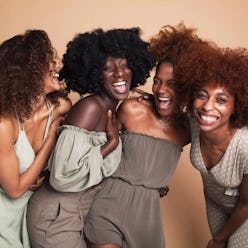 "I know the numbers and the statistics of women behind beauty brands, and we still have a lot of work to do," Jen Atkin, the founder and CEO of OUAI Haircare, tells The Zoe Report — and she's not wrong. According to LedBetter's most recent Gender Equality Index, 71 percent of leadership roles in the beauty industry are held by men. That stat is pretty shocking — it seems like the one industry that women should dominate, right? — but it's also motivating. If you want to help boost those numbers, here are 12 female-owned beauty brands to support on Mar. 8, International Women's Day.
Admittedly, treating yourself to a new shampoo might not seem like the most revolutionary way to champion gender equality… but in reality, your purchasing power is just that: power. "We have to support one another to be able to really shatter those glass ceilings," Atkin says. The hair care entrepreneur tells TZR that she's passionate about shining light on other women in beauty ("that weird competition vibe that's bred between us, that's going to die," she says) — a sentiment that's unanimously echoed by all the female founders The Zoe Report interviewed for this story. "I mentor a group of women and I participate in panels to share information that isn't immediately accessible with a simple Google search," Cashmere Nicole, the founder of Beauty Bakerie, tells TZR. "These things, I believe, create the future female leaders of tomorrow."
From Fur, a company tackling the stigma of body hair with luxe-feeling oils, to Briogeo, whose founder Nancy Twine recently became the youngest African American woman to launch a collection at Sephora, these 12 female-founded beauty brands are opening doors and proving that women deserve to take the lead. As Twine tells TZR, "Being a woman is never the downfall, it's the icing on the cake."
OUAI
"When I started doing hair, Sally Hershberger was literally the only successful female hairstylist I ever knew," Atkin says. "She gave me the feeling I'd be able to make it in that world." Surely, Atkin is now doing the same for women everywhere — the serial entrepreneur is an iconic celebrity stylist (known for her work with Kendall Jenner and Bella Hadid) and the founder of cult-favorite hair care line OUAI. While the Wave Spray and Air Dry Foam are not to be missed, the brand's latest product, Hair & Body Shine Mist, offers the perfect way to celebrate International Women's Day: with a little shimmer.
Dr. Loretta
"As a woman born in 1953, I have seen a huge evolution in the status of women in our society, from my childhood when very few of the women I knew worked or had a driver's license or any of their own assets to now, when a full 50 percent of all young physicians are women," Dr. Loretta Ciraldo, a dermatologist and the founder of her eponymous skincare brand, tells The Zoe Report.
In her 40-plus years in dermatology, Dr. Loretta has been a true boundary-breaker: She was among the first to study UVA's effects on the skin in 1975, and today, she's revolutionizing the way women feel about aging. "I don't think that in our 60s we should be trying to look like we did in our 30s, but instead we should look like a fresh and healthy version of our best selves," she says. "I want to change the paradigm of women feeling that they need to look like someone they aren't." Her Anti-Aging Repair Moisturizer, made with ingredients that defend from all four factors of aging (pollution, light, irritants, and climate), is a game-changer.
Briogeo
"Being the youngest African-American woman to launch a collection at Sephora means everything to me," Twine says. "It's a constant reminder that the sky's the limit for women." Even though she's faced obstacles and setbacks along the way with Briogeo, a hair care line that's reached cult-status with curly and coily girls all over the world, Twine hasn't let that get in the way of her larger vision. "The inspiration behind Briogeo stems from traditions passed down from the women in my family," the founder says. "Women continue to be an inspiration to the brand in more ways than one — Briogeo is all about giving back to them." No matter what your hair type, you're bound to love Briogeo's best-selling Scalp Revival Charcoal + Coconut Oil Micro-exfoliating Shampoo. It cuts through buildup to promote scalp health and leaves behind a clean, tingly feeling, care of peppermint oil.
Naturopathica
If your bathroom cabinet is full of clean beauty products, you can thank Barbara Close, the founder of Naturopathica. "I started my brand 25 years ago before wellness was a trend," she tells The Zoe Report. "That makes me really proud for a few reasons: I was ahead of my time championing holistic, natural, and clean beauty, which is something I think I only could have done because I am female. I also paved the way for other clean beauty brands to have a seat at the table; most — if not all — of those brands having been founded by women."
Naturopathica's products (the Manuka Honey Cleansing Balm is life- and skin-changing) range from serums to supplements, offering women a 360° approach to skincare. "I want women to understand and take charge of all of the factors that impact healthy skin — from topical products to diet, lifestyle, and hormonal factors," Close says. "With a better understanding of your skin's unique personality, you can choose the right skin care, healthy recipes, and herbal remedies to feel better every day."
Dermaflash
"Every time I think about the fact that I had an idea in the shower that has turned into a groundbreaking new category in beauty, I have to pinch myself," Dara Levy, the founder of DERMAFLASH, tells TZR. Her category-defining invention? A celeb-loved, at-home dermaplaning tool to keep your face exfoliated and free from peach fuzz. "At its core, DERMAFLASH is all about female empowerment," Levy says. "There is nothing better than feeling good about the way you look — I always say when you look good you feel good and when you feel good there is absolutely nothing you cannot do."
Hanahana Beauty
"At Hanahana Beauty we have a strong mission that we not only believe in but follow through on: disrupting the beauty industry through increasing access, transparency, and sustainability for women of color in all aspects of the business," Abena Boamah, Hanahana Beauty's founder, tells The Zoe Report. Not only is the brand's star ingredient, shea butter, all-natural and sustainably sourced from Katariga Women's Shea Cooperative in Ghana, it also quenches thirsty skin like that. "At Hanahana we are committed to empowering women of color and we do this throughout all levels of our company, including paying two times the fair trade prices for our shea butter," she says. "As a brand, we want to continue grow to inspire and impact black women globally, through our products, platform, and outreach."
Sunday Riley
International Women's Day is kind of a big deal to Sunday Riley, the founder of the botanical beauty brand by the same name, since the Mar. 8 date aligns with the 10-year anniversary of her company's Good Genes All-in-One Lactic Acid Serum. "To celebrate, we were looking for another legendary super hero to partner with," the founder tells TZR — so Riley collaborated with Marvel to reinvent the best-selling serum with fresh packaging that riffs on Captain Marvel's iconic costume (which Brie Larsen, the first female to portray the superhero, dons in the new Captain Marvel movie). "Marvel's Captain Marvel, the most powerful being in the Marvel Universe, and Sunday Riley's Good Genes share the same values: Higher, further, faster," the brand said in a press release for the new product.
The Mane Choice
How's this for an inspiring story? Courtney Adeleye, the founder of The Mane Choice, turned her hobby of cooking up hair care products in her kitchen (and broadcasting it on YouTube) into a multimillion dollar business in just two years. "The challenges I've faced have mainly come from crossing the threshold of each new level in business," she tells The Zoe Report. "Certain parts of your business may not unfold how you expected, but you can grow from it if you allow it to be a teaching moment. Most people call it growing pains. I call it experience." The Mane Choice Multi-Vitamin Scalp Nourishing Hair Growth Oil is the product that started it all.
Beauty Bakerie
Just like Beauty Bakerie's dessert-themed makeup and cutesy product names (example: Cake Mix Foundation, Don't Give A Frappé Concealer), its founder embraces her femininity. "I've overcome hardships by remembering that I am a woman in business — I do not have to conduct business according to any outdated norms that were created by men before me in order to be considered successful," Nicole tells The Zoe Report. Give in to your girly side with the brand's just-released Proof Is In The Pudding Palette, a collection of shimmery neutral shadows.
Fur
You've likely seen Fur Oil all over your Instagram feed — the cute, round, golden bottle quickly became an influencer favorite, making it the first (and only) pubic hair oil to reach "It" status. "Over the past few years, body hair has been viewed as embarrassing," Laura Schubert, the co-founder of Fur, tells The Zoe Report. "Whether women decide to keep or remove their body hair, our mission is to help them feel that any choice they make is acceptable and their own. Our brand is inspired by strong, confident, self-possessed women." Its signature Fur Oil, made with antibacterial clary sage oil and pore-clearing tea tree oil, can be used "head to toe, bare to bushy," as the brand says, to prevent ingrowns and condition skin and hair.
Kahina Giving Beauty
If you haven't yet tried Kahina Giving Beauty, a Moroccan skincare line that's equally effective, ethical, and empowering, International Women's Day is the time to do it. "We have greatly improved the lives of impoverished women in rural Morocco by providing a market and fair wage for their labor, allowing access to education for young girls, and running water and electricity for a remote village high in the Anti-Atlas Mountains," Katherine L'Heureux, the brand's founder, tells TZR. "At the same time we provide healthy alternatives to traditional skincare for women around the world."
According to L'Heureux, being a woman in business has actually been her greatest advantage. "I created the products that I really wanted to use — effective, sustainable, and beautifully packaged," she says, calling Kahina's argan-infused Oil Cleanser one of her favorites. "I was determined to market Kahina in a way that I felt was not condescending to women and that would emphasize the positive rather than playing on women's insecurities."
Captain Blankenship
"Our mission at Captain Blankenship is holistic wellness," Jana Blankenship, the brand's founder, tells The Zoe Report. "We create skincare, body care, and hair care products made with organic ingredients that are beneficial to women, their loved ones, and the planet." The company's belief that products can be all the things — luxurious and effective and eco-friendly (check out its Mermaid Dry Shampoo for proof) — is one that Blankenship believes is true for women, too. "I think the biggest hardship I have faced is the myth you can't have it all as a woman," she says. "Many believe that you can't be a mother and a business owner, and that eventually the other shoe will fall. It isn't true. Women can definitely have it all. It is trusting yourself and your intuition to make the right decisions for you, your family, and for the world."