Are You Boob Masking? You Should Be — Here's Why
Pascal Le Segretain/Getty Images for Victoria's Secret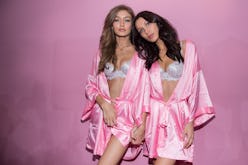 To put it bluntly, you probably need to take better care of your boobs. The breasts, chest, and neck are often overlooked when it comes to consistent skincare routines — but these areas are just as affected by sun damage, pollution, and aging as the skin on your face, if not more. Luckily, chest skincare products to perfect your complexion everywhere are trending, making it easier than ever to give your ta-tas some TLC.
Even dermatologists agree that a little breast-focused skincare is in order. "When considering skincare, the bust is generally neglected," Dr. Aanand Geria, a dermatologist at Geria Dermatology in New Jersey, tells The Zoe Report. But just like the skin on your face, the skin on your chest is exposed to the elements and needs protection. "The upper portion of the breasts in particular are prone to early sun damage, because it's not an area that most people apply sunscreen," he says.
Sun damage isn't the only culprit, either. Dr. Geria adds that this area is often dry and in need of hydration, since women tend to stop moisturizing at the chin. "When you wear a bra, your chest can be subject to sweat, redness, and irritation as well," Lynnsee van Gordon, the co-founder of Anese, a brand that's at the forefront of the boob care movement, tells The Zoe Report. "There's also the not-so-talked about issue of nipple chafing." Ouch, but true. All of that adds up to acne, sensitivity, inflammation, and flaking skin.
"In the bust area, women tend to see a loss of volume, firmness, elasticity, and bounce," Nannette de Gaspé, the founder of her namesake skincare brand, adds. "When you consider that the bust area is one of the first areas on the body that visibly shows the evidence of weight gain and loss, pregnancy, breastfeeding, natural progression of age, it becomes quite easy to understand." While sagging breasts or stretch marks aren't "problems," per say — they're just another part of the natural, beautiful process of aging — they are things that some women would rather not deal with.
So, can't you just extend your facial care regimen a little lower? In some cases, yes — go ahead and slather your favorite sunscreen all over your décolletage to keep it protected from the sun's harmful rays. But in terms of tending to current concerns or reversing past damage, a bust-specific regimen is best. As de Gaspé says, "The skin on the face is quite different than the skin on the body and should always be treated as such."
"The skin on the breasts can be more delicate," Dr. Geria clarifies — so this isn't the place to test out your new wrinkle-fighting retinol cream or harsh exfoliating scrub. Besides sunscreen, hydration is key for cleavage. "Because skin comes into contact with skin, we need to make sure the area is moisturized," he says. Opt for a daily layer of SkinCeuticals Neck, Chest & Hand Repair, which hydrates while brightening sun spots; or Crepe Erase Intensive Body Repair Treatment, known for firming and moisturizing in equal measure thanks to potent botanical extracts.
To level-up your routine, indulge in a weekly masking session for your chest and breasts — the dermatologist maintains this can help bring hydration and elasticity to the area, while also fighting sun damage. "Look for ingredients that are gentle, will help reduce redness, and make boobs soft," van Gordon suggests. Anese's aptly-named Calm Your Tits is ideal; it's "an intensely nourishing boob mask enriched with collagen, green tea, and organic honey," she says. Just 20 minutes a week calms irritation from chafing and reduces bust blemishes.
"Argan oil and hyaluronic acid will hydrate the skin and reduce the appearance of wrinkles," Dr. Geria adds. Both are present in Nannette de Gaspé Uplift Revealed Bust mask, which serves to do all of the above plus "re-shape the contours of the bust by increasing fullness, firmness, and skin elasticity," according to the brand founder.
Ahead, 13 skincare products specifically designed to give your boobs the boost they deserve.