The Subscription Service That's Ideal For The Coffee-Drinker In Your Life
Book of the Month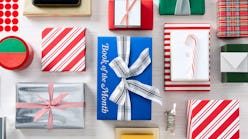 Sometimes a generic gift card or your usual go-tos just don't seem quite right for a certain person for whom you're shopping. For those you have to get a little — ahem — creative with, consider forgoing the traditional present route and opt for subscription service gifts.
Just like creating cool experiences, the gift of a subscription service or box that's perfectly suited to their interests is both a totally thoughtful and standout gift — amid all the candles and other reliable but frequently gifted things your loved ones will be unwrapping this year. You probably already know about the wealth of fashion and beauty boxes on the market, but there are actually a bunch of other ways you can treat your gift recipient to a monthly service that lets them immerse themselves in hobbies and beloved habits like wine tasting, reading, or even healthy eating (and then of course there's a new service that can ship you a new plant every month). Ahead find a few genius options that might just help you win the holidays.
For the avid vino drinker in your life, a membership to this wine club could be just the ticket. While the membership itself is free, deliveries start at just $39 per month for three bottles. Winc lets members tailor their selections by answering questions about their tastes, so if you don't feel comfortable guessing their palate preferences, you can also pick up a gift card than can be applied to a membership or a one-off gift box before committing.
Bookworms will love being exposed to new reads monthly, which is exactly what this service offers and you can start your gift recipient off with a three-month trial (five books every month) for just $44.99.
Introduce the coffee lover in your life to a brand new batch each month with this service. With each box, she'll get a 12-ounce bag of beans (which equals about 30 cups of coffee) to try out, and you can start her off with a one-month trial for $20 if you're afraid to commit them or are working with a tight budget.
Practically everyone has that one friend who loves coming up with a new cocktail (and luckily you reap the benefits), and if you're still shopping for yours, consider a subscription to this service which offers original recipes for bar-quality cocktails (complete with video tutorials) garnishes, sodas, juices, and more essentials starting at just $50 a month. She'll only need to add the booze.
Wellness enthusiasts — or just anyone who's resolved to eat more healthfully — will appreciate the gift of this superfood delivery service. Perfectly portioned wholesome meals (like smoothies, soups, or savory bowls) start at just $6.99 a cup and you can get between six and 24 cup subscriptions weekly or monthly. If that's a bit much to commit to, you can also scoop up a gift card so she put it toward the plan that best suits her needs.
Get the cinephile in your life the gift of monthly movie tickets starting at just $4.99 a month (including 3D) during a holiday season promo with no blackout dates. Sinemia's service is billed annually and there's no extra fee to join.
Foodies will appreciate this service, which ships an assortment of freshly ground, small batch spices and globally-inspired recipes to experiment with every month. Start with just a month-to-month basis at $11.99 monthly, or pre-pay for six ($65.94) or 12 ($119.88) months.