Finish Your Summer Strong With Playful Shell Jewelry
A chic end to beach season.
@brinkerandeliza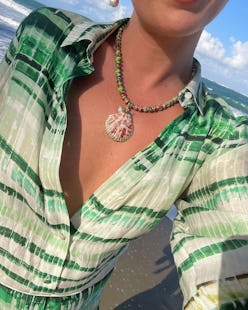 We may receive a portion of sales if you purchase a product through a link in this article.
Blame it on a certain buzzy Disney remake or fashion's current interest in all things fantastical, but the term "mermaidcore" is simply inescapable this summer. The aesthetic has seeped into every corner of digital life — TikTok's For You page, Gmail's promotions inbox, targeted Instagram ads — and shows no sign of retreating anytime soon. As a result, suddenly it seems like everyone is wearing scalloped dresses (think the styles offered by Bevza and Anna October) and iridescent tops. But the easiest entry point to the look has to be shell motif jewelry.
Designers are on board with this idea. Just look to the models at Ulla Johnson's Spring 2023 show, who wore beaded choker necklaces adorned with natural conch shells. Acne Studios, on the other hand, debuted lengthy, exaggerated cowrie shell earrings, while designer Jonathan Simkhai created clutches and jewelry inspired by the ocean mollusks. These references have given everyone from influencers to celebrities an easy in with the trend. But like with any viral mythical look that starts online, it can easily veer into quirky cosplay territory if you aren't careful. The key to mastering siren style in a way that doesn't feel cheesy is to pick jewelry pieces that both fit the theme and feel authentic to you.
If your tastes skew more Sofia Richie (aka timeless) then perhaps a thin and delicate shell anklet from Wolf & Badger will resonate with you. It'll add a subtle dose of the trend into your summer poolside outfit without drawing too much attention. Alternatively, if you prefer to embrace mermaidcore at its very fullest — shiny, whimsical, loud — brands like Annie Lu, Brinker and Eliza, as well as Julietta offer super colorful, oversize seashell items that serve as statement pieces. (This Annie Lu bracelet, which features semi-precious stones and shells, is on my shopping wishlist.)
And if you don't own any jewelry yet that makes you feel like a modern day Ariel, TZR will fix that for you. Ahead, we rounded up the best shell pieces to wear right now.
Necklaces
Take a page out of the Ulla Johnson handbook and work the sea motif into your look via a charming necklace. You can layer it into your existing chain stack or rock the piece by itself (the Don't Let Disco option is definitely a stand alone item).
Rings
If you don't want a giant seashell shining from your neck, we understand. For a more subtle take, it doesn't get any more low-key than that a ring from Pamela Love, which combines the ocean design with dreamy opal. Or consider the design below by Mignon Faget, which offers a more abstract take on the trend.
Earrings
Draw everyone's attention to your face with a pair of coastal earrings from the likes of Brinker and Eliza or James Michelle, who offers a cool clam shell and conch combination. If you want a quieter approach to the motif, reach for tiny studs from Pandora.
Anklets
Don't discount this summer camp favorite in your warm-weather outfits — there's so many elevated, grown-up versions out there right now. These will instantly jazz up your favorite pair of sandals or flats. Plus, you only really have a few more weeks to wear anklets before socks and boots cover everything up — so enjoy it!
Bracelets
When it comes to bracelets, you may think of the ones sold beachside (you know, the thin braided colorful string with a shell hanging off it). And while those are fun in the moment, they don't often transition well into your non-beach wardrobe. Below, we found styles that'll appeal to both to your surfer and city girl sides.