The Rodarte Fall/Winter 2023 Show Brought Fairy Tale Fantasies To Life
Giovanni Giannoni/WWD/Getty Images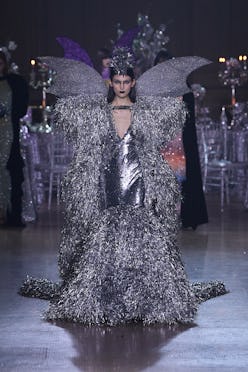 To wear Rodarte is to indulge in a fair degree of fantasy. Since its 2005 inception, the Los Angeles-based label has been celebrated for its theatrical, escapist clothing, which runs the gamut from frothy princess confections (see Spring 2018), vampy vintage redux (Fall 2020), to sci-fi convention formalwear (Fall 2014 — remember the Star Wars theme?!). And this afternoon, as the brand showed at New York Fashion Week for the first time in two seasons, was no different: For their Fall/Winter 2023 collection, the label's co-designers (and sisters) Laura and Kate Mulleavy zeroed in on dark, gothic glamour worthy of Wednesday Addams, or even the Corpse Bride.
Soundtracked to the Tori Amos's "Winter" at the Williamsburg Savings Bank, the first models took to the runway in long witchy gowns. Flared sleeves dragged as long as the skirts; the occasional collar flared outward like a flying bat. As the looks solemnly made their way around the set — which was decorated with banquet tables draped in sparkling silver fabric and matching place settings — the line-up shifted toward Edward Gorey-esque dresses with white lace trimmings and bridal silhouettes in moody blues and blacks. As headpieces worthy of Maleficent began to appear, one could not help but wonder what sort of Met Ball gala theme might resurface them in future years.
For those who prefer the lighter, brighter side of Rodarte, there were moments of playful whimsy, too: A range of fairy-inspired dresses (accessorized with exaggerated wings, tulle trimmings, and elfin ear pieces), flouncy sequin sets in pastel colors, and a sparkling rainbow, bow-trimmed dress that's sure to fill the Alessandro Michele-shaped hole in many a maximalist's heart. Another source of joy for fashion fans? The return of the label's deconstructed and tattered knitwear, a longtime editor favorite that also made a brief appearance for Fall 2022.
It there's any question as to who these fractured fairy tale pieces were for, one needed look further than the star studded front row, which included Beanie Feldstein, Quinta Brunson, Brie Larson, Natasha Leone, and Rowan Blanchard in its ranks. The Mulleavy sisters have a long-standing history of courting the interest of Hollywood's bright young things and It girls who need something lovely, fun, and fashion forward for their next flashbulb-filled event. This editor can already imagine the sheer and lace styles from the catwalk all over the red carpet scene. But will someone wear the outsize silver spangled number complete with a spiky headdress and pointy wings? A girl can dream.
Keep scrolling for a selection of stand out looks from the collection.